My last post "The Sixth Sense" discussed the stages of grief as a model for understanding our emotional responses to organizational change.
But I have always felt we were missing a foundational element in our understanding of the grieving cycle.
This gap was recently brought up by a group of scientists in one of my workshops.
They recognized the grieving curve in their organization, and they could also see that NOT everyone was on the same page at the same time and there was a missing link that was not being addressed.
This gap brings us to the missing element of change and grieving: SUSPENSION.
In suspension, we take all of our beliefs, all of our "have to's," all of our assumptions – and we let them go.
SERIOUSLY let them GO.
When we let go, we make space for something new.
We make space for acceptance.
We give room for others to be human.
We all experience grieve in our own way.
In organizations experiencing change, we go through the curve of grief as a group, and people get stuck in different stages at different times.
The element of suspension allows us to open ourselves and others to new learning, new possibilities, new realities but on our own timetable.
When it comes to people we must be patient.
When it comes to leadership we must engage all.
When it comes to life we must embrace the journey.
We must sometimes let go of our beliefs and assumptions to make  room for others.
To successfully lead in times of change, we have to embrace suspending:
Suspend judgment.
Suspend "should."
Suspend preconceived notions.
One of the most uncomfortable aspects of change is the sense of losing control. As those around you process change, look at what they do as they try to gain control, and listen to what they are beginning to accept and understand.
Demonstrating the element of suspension gives us the room to re-establish and re-engage, and shows those around us- to do the same.
To be successful in change know that everyone has their own pace,  and as we go through the phase of change we will always be learning, understanding, and suspending.
Lead From Within:  Letting go of what should be, we allow ourselves the time and space for us to live in what can be. As you go through change in life and in work, be patient with the curve of emotions. Suspend judgment and make room for emotional development.
---
N A T I O N A L   B E S T S E L L E R
The Leadership Gap: What Gets Between You and Your Greatness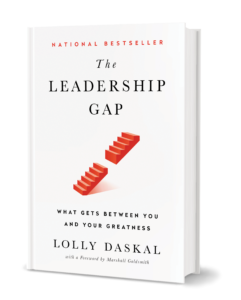 After decades of coaching powerful executives around the world, Lolly Daskal has observed that leaders rise to their positions relying on a specific set of values and traits. But in time, every executive reaches a point when their performance suffers and failure persists. Very few understand why or how to prevent it.
---
Additional Reading you might enjoy:

Photo Credit: Getty Images
---
Lolly Daskal is one of the most sought-after executive leadership coaches in the world. Her extensive cross-cultural expertise spans 14 countries, six languages and hundreds of companies. As founder and CEO of Lead From Within, her proprietary leadership program is engineered to be a catalyst for leaders who want to enhance performance and make a meaningful difference in their companies, their lives, and the world.

Of Lolly's many awards and accolades, Lolly was designated a Top-50 Leadership and Management Expert by Inc. magazine. Huffington Post honored Lolly with the title of The Most Inspiring Woman in the World. Her writing has appeared in HBR, Inc.com, Fast Company (Ask The Expert), Huffington Post, and Psychology Today, and others. Her newest book, The Leadership Gap: What Gets Between You and Your Greatness has become a national bestseller.
---