In addition to the traditional five senses – sight, hearing, taste, smell, and touch – we have a sixth senses: our emotions. It is the sense that directs, modifies, and condenses our other five senses.
It is our emotional sense that gives us the ability to understand and describe what we experience.
Our emotions arise from our own perceptions, and in turn they play a big role in determining how we respond.
Our emotions are made up of language all their own. When our emotions speak, we are compelled to listen.
Change affects our emotions. To be successful in the face of change, we have to understand what we're feeling and know how to express it appropriately.
Most people are familiar with the renowned psychiatrist Elisabeth Kübler-Ross and her work defining the five stages of grief: denial, anger, bargaining, depression, and acceptance.
The same model has been applied to organizational change.  We go through a grieving curve when we are faced with change.
We may engage in denial by refusing to accept the reality of the change, or rejecting information that forces us to face that reality.
We may experience anger toward ourselves or others we perceive as being responsible.
We may try to bargain our way into an unsustainable compromise that's really an attempt to reject the change at hand.
We may become mired in depressive thought and behavior that leave little energy to deal with anything else.
There are as many combinations of these stages as there are people. And for organizational change, the process becomes even more complicated as people interact and influence one another.
Change can be successful when we tap into our sixth sense, when we acknowledge and deal with the emotions of the people who are affected.
When it comes to organizational change, we should:
Maintain connection.
Listen with empathy.
Rely on those who show strength.
Change cannot be comprehended without taking into account our feelings.
Lead from Within: Listen to the voices of those affected by change, and be respectful and mindful of the feelings they express.
---
N A T I O N A L B E S T S E L L E R
The Leadership Gap: What Gets Between You and Your Greatness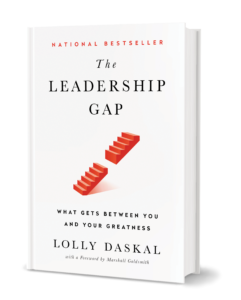 After decades of coaching powerful executives around the world, Lolly Daskal has observed that leaders rise to their positions relying on a specific set of values and traits. But in time, every executive reaches a point when their performance suffers and failure persists. Very few understand why or how to prevent it.
---
Additional Reading you might enjoy:

Photo Credit: Getty Images
---
Lolly Daskal is one of the most sought-after executive leadership coaches in the world. Her extensive cross-cultural expertise spans 14 countries, six languages and hundreds of companies. As founder and CEO of Lead From Within, her proprietary leadership program is engineered to be a catalyst for leaders who want to enhance performance and make a meaningful difference in their companies, their lives, and the world.

Of Lolly's many awards and accolades, Lolly was designated a Top-50 Leadership and Management Expert by Inc. magazine. Huffington Post honored Lolly with the title of The Most Inspiring Woman in the World. Her writing has appeared in HBR, Inc.com, Fast Company (Ask The Expert), Huffington Post, and Psychology Today, and others. Her newest book, The Leadership Gap: What Gets Between You and Your Greatness has become a national bestseller.
---