In life and in leadership, we are constantly dealing with duality.
To learn, we need to be curious. To lead, we need to have followers. To be strong, we need to be vulnerable. To give, we need to receive.
As twenty-first century leaders, we need to understand that we are moving toward a NEW ethic, one that is built on duality.
In the OLD way of thinking, we based our leadership on a set of shared values and principles aimed at achieving moral perfection while maintaining social order and well being.
What got left behind in the old approach are the things that we are coming to value and seek out in the NEW: authenticity, vulnerability, unity.
The old approach was built on the duality of contradictory opposites. In or out. Black or white. Right or wrong. We divided things, labeled them, decided their value.
In the new ethics of leadership opposites are about reconciling.
The foundation is a concept of opposites that are contrary but not contradictory, that exist as points on a spectrum—not black and white, but darkness AND light.
Instead of choosing one and rejecting the other, we accept both, we live with both, we seek to know both.
To lead us to our truth in our living and leadership we must approach life as a series of dualities, to let go of our anxiety of having to be all on one side or the other.
It's a challenge, because we as leaders love taking sides, making decisions, and feeling prepared.
But there are things you can do to learn to live with duality:
Be patient with yourself: It's challenging to bump up against the dualities of existence. Give yourself time and space to adjust your thinking.
Trust yourself: Have faith in your intuition and stay within the moment, believing that you will find what you seek.
Acknowledge the duality: Free yourself to concentrate on pursuing what is appropriate in each moment.
Hold the tension: When you find yourself in discomfort from duality, don't bury the tension but hold it and give your consciousness a chance to work through it.
State a preference: You know what you want for yourself and for those you lead. Stand up for the values and dignities of your heart and watch the shadows lighten.
Do opposites exist? Yes.
Do we struggle with dualities? Yes.
Do we need these dualities? Yes.
Lead from Within: Life is changing, and our leadership must change too. The more we acknowledge our truth, the more we understand ourselves and others.
---
N A T I O N A L   B E S T S E L L E R
The Leadership Gap: What Gets Between You and Your Greatness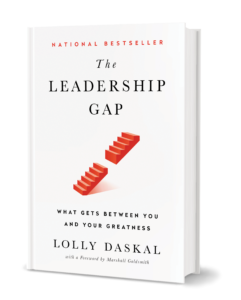 After decades of coaching powerful executives around the world, Lolly Daskal has observed that leaders rise to their positions relying on a specific set of values and traits. But in time, every executive reaches a point when their performance suffers and failure persists. Very few understand why or how to prevent it.
---
Additional Reading you might enjoy:

Photo Credit: Getty Images
---
Lolly Daskal is one of the most sought-after executive leadership coaches in the world. Her extensive cross-cultural expertise spans 14 countries, six languages and hundreds of companies. As founder and CEO of Lead From Within, her proprietary leadership program is engineered to be a catalyst for leaders who want to enhance performance and make a meaningful difference in their companies, their lives, and the world.

Of Lolly's many awards and accolades, Lolly was designated a Top-50 Leadership and Management Expert by Inc. magazine. Huffington Post honored Lolly with the title of The Most Inspiring Woman in the World. Her writing has appeared in HBR, Inc.com, Fast Company (Ask The Expert), Huffington Post, and Psychology Today, and others. Her newest book, The Leadership Gap: What Gets Between You and Your Greatness has become a national bestseller.
---