At the age of seven, a young boy and his family were forced out of their home.
The boy had to work to help support his family.
When he was nine, his mother passed away.
As a young man was keen to go to law school, but had no education.
At 22, he lost his job as a store clerk.
At 23, he ran for the state legislature and lost.
The same year, a business failure left him with a debt that took him 17 years to repay.
At 27, he had a nervous breakdown.
At 29, he lost an election to be speaker in his state legislature.
At 31, he was defeated in his attempt to become an elector.
By 35, he had been defeated twice while running for Congress.
At 39 he lost his re-election bid.
At 41, he lost his four-year-old son.
At 42, he was rejected as a prospective land officer.
At 45, he ran for the Senate and lost.
Two years later, he lost the vice presidential nomination.
At 49, he ran for Senate and lost again.
At 51, he was elected president of the United States of America.
The young boy who grew up to be president is Abraham Lincoln.
Life is a variable event for everyone and our leadership is not something we are born with, but is revealed in our everyday struggles and strain.
When struggle is present the art of our leadership strength will be evident everywhere:
In our priorities. Leaders who know their priorities lead with what is important to them. They give their emotional intensity and continuous focus with every resource to support what they want to obtain. How you spend your time shows you what is important to you.
In our persistence. Leaders who are persistent lead with everything they have. They don't leave any stone unturned and they don't sit around feeling sorry for themselves but take responsibility for what they want and show determination till the very end. It is not what your life takes from you; it's what you give to your life that counts.
In our passion. Passionate leaders apply all their efforts, all their best skills, and all their capabilities with everything they have. Goodness is good but passion is much greater.
In our patience. Patient leaders are not weak but emotionally strong. Good things may not come to those who wait, but great things come to those who have patience. Masterpieces take time. Patience is power and patience takes practice. There are many obstacles that come our way, and unless we have patience, we will react instead of responding. Patience is the attribute that helps us attain what we want and frees us from our knee-jerk reactions.
In our principles. Those who lead with principles know what is right and what is wrong. Every time we make a decision we are either moving toward our principles or away from them. Our principles are our values; they affect every direction of our life and leading.
Life has a way of throwing us into situations that test us, evaluate us, and assess us.
Leaders who do not waver in times of struggle, those are the leaders who are truly exceptional.
Lead From Within: The art of leadership is not without struggle, those that lead from a strong foundation are unshakable, they have endurance in the most grueling training that life has to offer.
---
N A T I O N A L   B E S T S E L L E R
The Leadership Gap: What Gets Between You and Your Greatness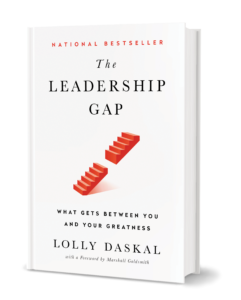 After decades of coaching powerful executives around the world, Lolly Daskal has observed that leaders rise to their positions relying on a specific set of values and traits. But in time, every executive reaches a point when their performance suffers and failure persists. Very few understand why or how to prevent it.
---
Additional Reading you might enjoy:

Photo Credit: Getty Images
---
Lolly Daskal is one of the most sought-after executive leadership coaches in the world. Her extensive cross-cultural expertise spans 14 countries, six languages and hundreds of companies. As founder and CEO of Lead From Within, her proprietary leadership program is engineered to be a catalyst for leaders who want to enhance performance and make a meaningful difference in their companies, their lives, and the world.

Of Lolly's many awards and accolades, Lolly was designated a Top-50 Leadership and Management Expert by Inc. magazine. Huffington Post honored Lolly with the title of The Most Inspiring Woman in the World. Her writing has appeared in HBR, Inc.com, Fast Company (Ask The Expert), Huffington Post, and Psychology Today, and others. Her newest book, The Leadership Gap: What Gets Between You and Your Greatness has become a national bestseller.
---