He was an elderly man whose face had life written all over it. He sat drinking tea as he reflected on his life:
When I was young, I was full of fire and I wanted to awaken everyone. I prayed for enough strength to change the world.
In midlife, I awoke one day to realize my life was half over and I had changed no one. I prayed for strength to change those close around me,   who so much needed it.
And now, here I am a very old man, and my prayer today is very simple. I pray for the strength to at least change myself
In life we must learn to first assemble the inner, than the outer.
We must first acknowledge the important rather than the insignificant.
We must recognize the great rather then the trivial.
We must first lead ourselves, and then only then we can lead others.
Whether you call it prayer, meditation, or some other name, you can each learn something every day by asking these questions and reflecting on the answers.
Who am I?
Until you identify your authentic self, it is difficult to effectively lead. When you make a conscious commitment to know yourself, develop yourself, learn about yourself, you are allowing yourself to change step by step. Knowing yourself is a process that can only take place internally.
What is my purpose?
There is an amazing sense of empowerment that comes when you identify what you are meant to do. It grows out of learning what matters most to you. Once you have it, it provides direction and focus, it brings clarity, it establishes goals. It helps you achieve results and stay connected to meaningful thought and action.
Who do I want to be?

As Michael Jackson sang, if you want to make this world a better place, take a look at yourself and make the change. Who you are going to be is rooted in your talents and skills and fueled by your passion.
The only place you can truly create change is within you.
The essence of leadership is not in telling of others what to do, but in being your best self and inspiring those around you to do the same.
Lead From Within: Most of us want to make the world a better place. To do so, we must start within ourselves, where we are, making one change at a time, and we must not stop reflecting until we are done.
---
N A T I O N A L   B E S T S E L L E R
The Leadership Gap: What Gets Between You and Your Greatness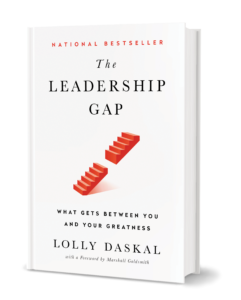 After decades of coaching powerful executives around the world, Lolly Daskal has observed that leaders rise to their positions relying on a specific set of values and traits. But in time, every executive reaches a point when their performance suffers and failure persists. Very few understand why or how to prevent it.
---
Additional Reading you might enjoy:

Photo Credit: Getty Images
---
Lolly Daskal is one of the most sought-after executive leadership coaches in the world. Her extensive cross-cultural expertise spans 14 countries, six languages and hundreds of companies. As founder and CEO of Lead From Within, her proprietary leadership program is engineered to be a catalyst for leaders who want to enhance performance and make a meaningful difference in their companies, their lives, and the world.

Of Lolly's many awards and accolades, Lolly was designated a Top-50 Leadership and Management Expert by Inc. magazine. Huffington Post honored Lolly with the title of The Most Inspiring Woman in the World. Her writing has appeared in HBR, Inc.com, Fast Company (Ask The Expert), Huffington Post, and Psychology Today, and others. Her newest book, The Leadership Gap: What Gets Between You and Your Greatness has become a national bestseller.
---