As one year comes to close and another begins, we are drawn to making new plans, setting new goals, and assessing whether we have made a difference.
For many of us, that assessment begins with questioning everything that we have done, everything we are about to do, and everything we might do.
It's a rare thing to have great questions, let alone great answers.
But when we can ask ourselves the right questions, they can lead us to insightful answers.
The following questions can make a difference in your life:
What am I most passionate about? What do you love with all your heart? What do you feel strongly about? Ask yourself, are you living a life of passion?
Who can I encourage? We all (myself included) need encouragement from time to time. Who do you know who may be struggling and in need of help?
What do I need to let go of?   Let go of baggage.You know the people you need to forgive, relationships that need to end. Let go and lighten your load for your journey. How will you open your heart and allow yourself to let go?
What am I grateful for? To be grateful is to acknowledge all that is good in your life. It is the foundation of abundance. What are you grateful for and who do you need to thank?
How can I add value to others? Life is about service to others, and there are many opportunities to serve and to make a difference. Where and how will you add value?
Who do I love and what am I doing about it? We can get so caught up in our day-to-day stresses that we lose our connection, our desire to be loved and loving. Where can you focus on love?
What am I pretending not to know? All possibilities open up when we stop deceiving ourselves. If you stop pretending, life can be easier to face.
What would I do if fear was not an option? We have assigned immense power to our fears. How can we liberate ourselves from our fear and allow our heart to set us free? Think of that one thing, that scares you and go out and do it today!
How do I want the world to be different because I lived in it? We each have a purpose and we create our lives by living our passion and we make a difference by sharing our heart. What mark are you leaving on this world and how will you be remembered?
At the end of the day, let there be no excuses, no explanations, no regrets.
By asking ourselves questions that force us to think, feel, and look within ourselves, we can confront what is important to us.
Questions are an invitation to learn more about what we value most.
Many of us look at our problems and challenges and try to find ways to solve them and when we know our values our decisions become easier.
Living is an art of expression; reasoning is an art of thought.
Do not allow your reasoning to get in the way of your living. Approach all that you do with the right questions and then make the time to live with what matters most to you.
Lead From Within: If you want to make a difference in your life and your leadership, you must begin by asking yourself questions that provoke thought, focus and action that leads to a life of more meaning and more substance.
---
N A T I O N A L   B E S T S E L L E R
The Leadership Gap: What Gets Between You and Your Greatness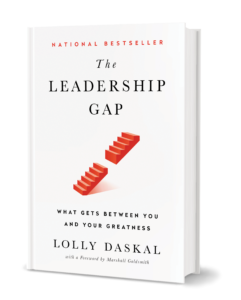 After decades of coaching powerful executives around the world, Lolly Daskal has observed that leaders rise to their positions relying on a specific set of values and traits. But in time, every executive reaches a point when their performance suffers and failure persists. Very few understand why or how to prevent it.
---
Additional Reading you might enjoy:

Photo Credit: Getty Images
---
Lolly Daskal is one of the most sought-after executive leadership coaches in the world. Her extensive cross-cultural expertise spans 14 countries, six languages and hundreds of companies. As founder and CEO of Lead From Within, her proprietary leadership program is engineered to be a catalyst for leaders who want to enhance performance and make a meaningful difference in their companies, their lives, and the world.

Of Lolly's many awards and accolades, Lolly was designated a Top-50 Leadership and Management Expert by Inc. magazine. Huffington Post honored Lolly with the title of The Most Inspiring Woman in the World. Her writing has appeared in HBR, Inc.com, Fast Company (Ask The Expert), Huffington Post, and Psychology Today, and others. Her newest book, The Leadership Gap: What Gets Between You and Your Greatness has become a national bestseller.
---