Everyone has the potential to be a leader, regardless of title or position.
But many people give themselves the title of leader, and expect others to think of them as a leader without actually understanding the meaning of leadership.
There are also those who have been positioned as a leader by others. They may be ranked at the top of a hierarchy and hold an important position, but who fail us when we need them.
Whether we are granted the title of leader by others or take it upon ourselves, we must remember that leadership is an honor and a privilege and something that must be earned—because others are counting on us and they are placing their trust in us.
Leadership, regardless of labels, must be earned. In short, you earn leadership by knowing what matters.
Behavior matters. It doesn't matter what your rank or role may be, where you come from, or if your title sounds impressive, you are not leader if your behaviors don't demonstrate the integrity of doing the right thing.
Trust matters. Leaders must earn trust. You must set the example, know that you are setting the example, and have a deep understanding that trustworthiness takes character. To be trusting requires values, to be trusted requires earning the privilege.
Service matters. True leaders understand: Leadership is not about you but about those you serve. It is not about ennobling yourself but bringing others up. The best way to earn your leadership is to lose yourself in the service of elevating others.
Influence matters. Leadership is neither a title nor a position, it is a demonstration of character that is worthy of imitation, emulation and inspiration.
"Why" matters. When you dig deep into an organization and employees can tell you the deeper purpose and the mission of their organization, you will discover strong leadership there. Leadership means knowing how to manage and empower every level of your organization.
Earning the title of leader does not depend on how many diplomas we have received, or how much money we make, or what title we decide to give ourselves or if we demand others to follow us.
Leaders in all realms of life and leadership know that the power they have come to hold exists because they have earned the responsibility of serving the many. Leadership is ultimately a position of service, trust, and character not authority.
Lead From Within: Leadership is not patronage, power and position. It is about the service you give to show you care, the trust you bestow to show your integrity, the character you embody.  It's more about reaching out instead of climbing up.
---
N A T I O N A L   B E S T S E L L E R
The Leadership Gap: What Gets Between You and Your Greatness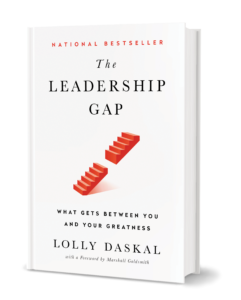 After decades of coaching powerful executives around the world, Lolly Daskal has observed that leaders rise to their positions relying on a specific set of values and traits. But in time, every executive reaches a point when their performance suffers and failure persists. Very few understand why or how to prevent it.
---
Additional Reading you might enjoy:

Photo Credit: Getty Images
---
Lolly Daskal is one of the most sought-after executive leadership coaches in the world. Her extensive cross-cultural expertise spans 14 countries, six languages and hundreds of companies. As founder and CEO of Lead From Within, her proprietary leadership program is engineered to be a catalyst for leaders who want to enhance performance and make a meaningful difference in their companies, their lives, and the world.

Of Lolly's many awards and accolades, Lolly was designated a Top-50 Leadership and Management Expert by Inc. magazine. Huffington Post honored Lolly with the title of The Most Inspiring Woman in the World. Her writing has appeared in HBR, Inc.com, Fast Company (Ask The Expert), Huffington Post, and Psychology Today, and others. Her newest book, The Leadership Gap: What Gets Between You and Your Greatness has become a national bestseller.
---