Many people hold an oversimplified idea about what leadership means.
Some think it's just a matter of guiding others to complete a task. Others confuse it with motivation.
In truth, leadership is a complex blend of competencies and capabilities.
It means communicating and empathizing, directing and modeling, teaching and mentoring—and, above all, trusting and serving.
With so many directions, it's a practice that can stretch and bend to accommodate different strengths and skills, and even weaknesses.
There are a few qualities, though, that can kill even strong leadership.
Here are few of the deadliest—keep them far from your own practice of leadership if you want to advance and be successful.
1. Dishonesty. Honesty is one of the most important qualities in a leader. A dishonest leader cannot be trusted. A lie may take care of the present, but it has no future.
2. Revenge. Weak leaders seek revenge; strong leaders forgive; great leaders know the best revenge is to have enough self-worth not to seek it.
3. Arrogance. Arrogance is most often an unhealthy ego in need of repair. Great leaders know how to keep their ego in check, because ego is only about edging greatness out and doesn't allow greatness in. Arrogance diminishes leadership.
4. Fear. Great leaders need to be too brave to be doubtful, too courageous to be fearful, and too determined to be defeated. Fear has no place in great leadership. Successful leaders experience fear, and then they fuel it into something bold and brave. The fears we don't face, though, become our deadly limits.
5. Disrespect. Disrespect is the weapon of the weak, and it hurts people and organizations. The kind of people who make up great organizations don't tolerate disrespect. Disrespecting others, or tolerating others who disrespect you, shows a lack of self-esteem.
6. Envy. Great leaders know who they are and take great pride in what they can accomplish. They enjoy watching others succeed and they make no room for envy. They know that if you're always looking over your shoulder at what other people have, you can't look forward to accomplishing great things.
7. Ingratitude. Great leaders value those around them and appreciate their hard work. They know they cannot attain success without others.
8. Favoritism. Leaders who practice favoritism in the workplace have no chance to build a trust or respect. Great leaders value all people and their gifts while understanding their differing needs, and they do their best to treat everyone well. This may sometimes look like favoritism on the surface, but those involved will always know the difference.
9. Laziness. Good leadership requires hard work. In fact, the leader should be willing to be the hardest worker on the team.
10. Poor communication. Communication is how leaders keep people and the organization healthy and on track as they fulfill their vision, goals, and objectives. The key to a culture of success is an environment where people can thrive without unnecessary dysfunction or confusion—and that means great communication. Great leaders know that clarity and communication reinforce human connection.
11. Conceit. A leader who always thinks they are the smartest in the room or they know best without even consulting others has fallen into conceit. Conceit almost always partners with arrogance, and great leaders know that it's never compatible with compassion and understanding.
12. Rigidity. Some things are worth being rigid about—for example, you should never be flexible when it comes to your values and vision. But for most issues, leaders are called to be adaptable, because those who cannot change their mind usually cannot change much else.
13. Shortsightedness. The best leaders think long term, with big plans and even bigger dreams. They do what they can today to make the future—distant as well as near—successful.
Most of us in leadership struggle at some time with one or more of these issues. It's best to keep a close watch, though, because even the smallest beginnings of these habits can be deadly.
Lead from within: Don't allow negative qualities to kill your good intentions and your ability to lead.
---
N A T I O N A L   B E S T S E L L E R
The Leadership Gap: What Gets Between You and Your Greatness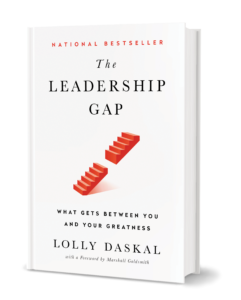 After decades of coaching powerful executives around the world, Lolly Daskal has observed that leaders rise to their positions relying on a specific set of values and traits. But in time, every executive reaches a point when their performance suffers and failure persists. Very few understand why or how to prevent it.
---
Additional Reading you might enjoy:

Photo Credit: Getty Images
---
Lolly Daskal is one of the most sought-after executive leadership coaches in the world. Her extensive cross-cultural expertise spans 14 countries, six languages and hundreds of companies. As founder and CEO of Lead From Within, her proprietary leadership program is engineered to be a catalyst for leaders who want to enhance performance and make a meaningful difference in their companies, their lives, and the world.

Of Lolly's many awards and accolades, Lolly was designated a Top-50 Leadership and Management Expert by Inc. magazine. Huffington Post honored Lolly with the title of The Most Inspiring Woman in the World. Her writing has appeared in HBR, Inc.com, Fast Company (Ask The Expert), Huffington Post, and Psychology Today, and others. Her newest book, The Leadership Gap: What Gets Between You and Your Greatness has become a national bestseller.
---