I wear many hats, and one of them is being a motivational speaker. I love that part of my work, but when I get hired, without fail, the client always asks, "Can you really get them motivated? Can you really give them the drive they need?"
And I always reply with utter confidence, "Yes, I can." Because I know the motivation they're seeking really starts from within.
Motivation is an individual response to an unfolding of pattern of inner needs, ranging from respect to recognition to relevance.
Motivation answers the basic question of why people do what they do and why they behave in a certain way. So if I can address people from within, I know they will be motivated.
Motivational drivers are different for everyone. They are as unique as we are.
To understand motivation we must know what drives us.
Here are a few motivators:  

Recognition. The need to be recognized is a significant motivator. We all want to know that we are appreciated. We seek validation from external sources. Feeling undervalued or unappreciated usually ends up as a lack of motivation.
Freedom. The need to have freedom is an important motivator. Freedom activates our own self-empowerment. Freedom prompts us to make decisions, to take ownership, to be responsible, to make plans, to dream big
Impact. The urge to have an impact is powerful motivator. People who have influence chance things. They get things done and they attain respect.  The idea of having impact motivates us to think deeper about how we can use our talent and influence.
Service. The urge to be of service is one of our strongest motivators; it comes not from our ego, but from our heart. It is based not in personal gain but in making a difference in people's lives.
Passion. The power of our passion is a profound motivator. The desire to get things done, to excel, to give of ourselves—those are all grounded in passion, the powerful feeling of enthusiasm that we all have inside of us.
Meaning. The desire for meaning is a revealing motivator, because one of the things we all share is a desire for a higher purpose, a yearning to be part of something bigger than ourselves. It is meaning that makes our lives into a calling.
The specific  motivators are different for each person, but we can find ours by addressing our value system. That means the most reliable source of motivation will come from one person, and that person is you.
Motivators compel you into action. Values are principles that guide your actions.
Motivation stirs the heart; it is the driving force of our achievements.
There are many ways to motivate others, but first you must know what motivates you. Only a motivated leader motivates others.
Motivation is caught, not taught.
Lead From Within: To find your motivation, you must constantly make an  effort to understand yourself and provide yourself with the means of addressing your own convictions.
---
N A T I O N A L   B E S T S E L L E R
The Leadership Gap: What Gets Between You and Your Greatness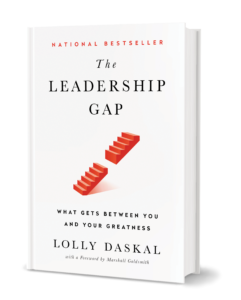 After decades of coaching powerful executives around the world, Lolly Daskal has observed that leaders rise to their positions relying on a specific set of values and traits. But in time, every executive reaches a point when their performance suffers and failure persists. Very few understand why or how to prevent it.
---
Additional Reading you might enjoy:

Photo Credit: Getty Images
---
Lolly Daskal is one of the most sought-after executive leadership coaches in the world. Her extensive cross-cultural expertise spans 14 countries, six languages and hundreds of companies. As founder and CEO of Lead From Within, her proprietary leadership program is engineered to be a catalyst for leaders who want to enhance performance and make a meaningful difference in their companies, their lives, and the world.

Of Lolly's many awards and accolades, Lolly was designated a Top-50 Leadership and Management Expert by Inc. magazine. Huffington Post honored Lolly with the title of The Most Inspiring Woman in the World. Her writing has appeared in HBR, Inc.com, Fast Company (Ask The Expert), Huffington Post, and Psychology Today, and others. Her newest book, The Leadership Gap: What Gets Between You and Your Greatness has become a national bestseller.
---