Most of us can name all the things we don't like about ourselves.
And we've probably also gotten feedback on "areas for improvement" (which usually feels a lot like outright criticism).
The result?
We work on overcoming our weaknesses instead of playing to our strengths.
What would happen if we reversed that pattern?
And acknowledged our strength by asking ourselves the following:
What are you a natural at? What comes easily to you that others struggle with? Find and leverage that ability.
What does reflection tell you? Spend time in reflection, then make a list of the five things you consistently get great feedback on.
What makes you feel good? Unlike working on what we need to improve, which drains our energy, working from strength makes us happy. Think about the things you do that make you happy.
What should you focus on? You can reach your highest potential by focusing on what you do best. Don't spend all your time working on what you are not; build on what you already are.
Why play to your strengths? Our strengths are gifts that were meant to be used—and when they are, you will find your greatest happiness. When you can play to your strength you can be more focused and more engaged. You'll feel good because you're growing and developing, and you'll find higher levels of innovation and creativity.
So lets try instead of focusing too much on our weakness, instead lets learn to maximize our strength and forge forward with great confidence.
Great leaders know they can accomplish more by concentrating on their strengths—rather than always correcting their weakness.
Lead From Within: If you want to improve your life, if you want to improve your leadership, you must learn what your strengths are and align yourself with them. When we play to our best self, the result is a positive and productive leadership.
---
N A T I O N A L   B E S T S E L L E R
The Leadership Gap: What Gets Between You and Your Greatness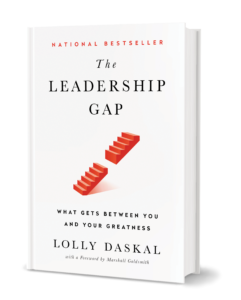 After decades of coaching powerful executives around the world, Lolly Daskal has observed that leaders rise to their positions relying on a specific set of values and traits. But in time, every executive reaches a point when their performance suffers and failure persists. Very few understand why or how to prevent it.
---
Additional Reading you might enjoy:

Photo Credit: Getty Images
Photo Credit: ShutterStock
---
Lolly Daskal is one of the most sought-after executive leadership coaches in the world. Her extensive cross-cultural expertise spans 14 countries, six languages and hundreds of companies. As founder and CEO of Lead From Within, her proprietary leadership program is engineered to be a catalyst for leaders who want to enhance performance and make a meaningful difference in their companies, their lives, and the world.

Of Lolly's many awards and accolades, Lolly was designated a Top-50 Leadership and Management Expert by Inc. magazine. Huffington Post honored Lolly with the title of The Most Inspiring Woman in the World. Her writing has appeared in HBR, Inc.com, Fast Company (Ask The Expert), Huffington Post, and Psychology Today, and others. Her newest book, The Leadership Gap: What Gets Between You and Your Greatness has become a national bestseller.
---