Why were you not?
There is a tale of a chassidic rabbi named rabbi Zusya. Zusya was a timid man, a man who lived a humble life.
One day Rabbi Zusya stood before his congregation and he said,  When I die and have to present myself before the celestial tribunal, they will not ask me,  'Zusya why were you not Moses?' because I would say 'Moses was prophet and I am not.'
They will not say 'Zusya, why were you not Jeremiah?' for  I  would say 'Jeremiah was a writer, and I am not.'
And they will not say 'Why were you not Rabbi Akiba?' for I would tell them, 'Rabbi Akiba was a great teacher and scholar and I am not.'
But then they will say 'Zusya why were you not  Zusya?' and to this I will have no answer.
All of us strive to be great leaders, the best parents, exceptional partners, who are we being?
How do we know what is the right thing to do, and how do we live a life without having regrets about 'Why were you not'?
It begins with living with integrity.
To have integrity will define our lives.
To have integrity we will do the right thing because it is the right thing to do.
To have integrity is to be true to the life we have been called to live.
Having integrity is having character, consistency, commitment and congruency with your truest self.
If you know who you are you will know what to do and if you know what to do …. you will not have to be asked why were YOU not.
 Your integrity is when your beliefs and thoughts and actions come together.
 Your integrity is finding out the uniqueness of you and living it
 Your integrity is discovering your giftedness and sharing it
Your integrity is detecting your strength and showing it.
LIVE IT. SHARE IT. SHOW IT.
To discover your integrity ask yourself the following questions:
What does integrity mean?
What are the characteristics of someone who lives a life of integrity?
What do you have to change to be more authentic about yourself?
Are your decisions congruent with who you are from within?
What are your blind spots that keep you from being real?
What do you value?
Do you know what is right in your heart?
Lead From Within: Integrity is the anchor of your heart; it is your commitment to being who you are deep in your soul.
---
N A T I O N A L B E S T S E L L E R
The Leadership Gap: What Gets Between You and Your Greatness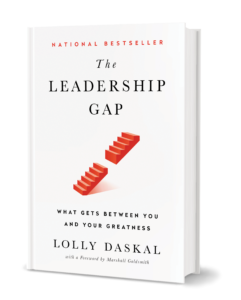 After decades of coaching powerful executives around the world, Lolly Daskal has observed that leaders rise to their positions relying on a specific set of values and traits. But in time, every executive reaches a point when their performance suffers and failure persists. Very few understand why or how to prevent it.
---
Additional Reading you might enjoy:

Photo Credit: Getty Images
---
Lolly Daskal is one of the most sought-after executive leadership coaches in the world. Her extensive cross-cultural expertise spans 14 countries, six languages and hundreds of companies. As founder and CEO of Lead From Within, her proprietary leadership program is engineered to be a catalyst for leaders who want to enhance performance and make a meaningful difference in their companies, their lives, and the world.

Of Lolly's many awards and accolades, Lolly was designated a Top-50 Leadership and Management Expert by Inc. magazine. Huffington Post honored Lolly with the title of The Most Inspiring Woman in the World. Her writing has appeared in HBR, Inc.com, Fast Company (Ask The Expert), Huffington Post, and Psychology Today, and others. Her newest book, The Leadership Gap: What Gets Between You and Your Greatness has become a national bestseller.
---