People sometimes have to make others wrong to be right. They do it not to be rude, not to be mean, not to be hateful but because they fear their own bad feelings.
Simply put, when we think we're right we feel good, and when we're wrong we feel bad.
But it's not always about right or wrong.
How can we relate to others without making them, or ourselves, feel bad?
We must lead with an open and nonjudgmental heart. Wronging others is a way of protecting ourselves. Instead we must allow ourselves to feel what we feel without pushing it on. It means we must accept ourselves and others—even the parts we don't like—with no judgment.
We must lead from a broader scope than the realities we perceive. When we're not caught up in our own version of reality, we can see and hear and feel who others really are, and we can we better understand and accept other people's opinions and ideas.
We must lead from the middle, not the front or back. Instead of classifying others as right or wrong, or focusing on what we see as right and wrong in ourselves, there's a powerful middle way. When we stand in front or behind, we separate ourselves from those around us.
We must lead from security, even in insecure realms. Leading from the middle means keeping our hearts and minds open to the idea that when we label things right or wrong, we're really trying to obtain our own security.
We must lead with no agenda and be comfortable with uncertainty. Can our minds and hearts be big enough to handle uncertainty about who may be right or wrong? Can we walk into a room with another person with no agenda or reason to make that person wrong or right?
We must lead with open spaces and not sharp corners of judgment. We must see, hear, and feel other people as they really are. It is powerful to lead in this way, because true communication can happen only when we open ourselves to learning and self-expression. There is nothing more beneficial in any situation than communication with understanding.
We must lead without blame, shame, or constraint. All three are techniques to solidify ourselves by casting something outside ourselves as wrong or out of control.
All of us are in relationships every day, and every day we face the risk that someone we encounter may trigger our unresolved issues.
To coexist and lead means extending compassion and understanding—a process that begins with all those unwanted parts of ourselves, all those imperfections that we don't even want to look at.
Compassion isn't some kind of self-improvement project or ideal that we are trying to live up to. It's a daily discipline to make ourselves better and to understand and stay neutral when we are triggered so that we can better serve.
Lead From Within: True leadership is about communication, understanding, and acceptance. What we reject out there is what we reject in ourselves, and what we reject in ourselves is what we are going to reject in others.
---
N A T I O N A L   B E S T S E L L E R
The Leadership Gap: What Gets Between You and Your Greatness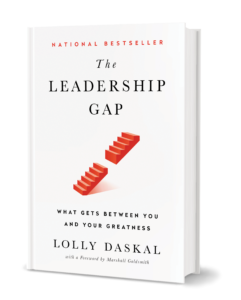 After decades of coaching powerful executives around the world, Lolly Daskal has observed that leaders rise to their positions relying on a specific set of values and traits. But in time, every executive reaches a point when their performance suffers and failure persists. Very few understand why or how to prevent it.
---
Additional Reading you might enjoy:

Photo Credit: Getty Images
---
Lolly Daskal is one of the most sought-after executive leadership coaches in the world. Her extensive cross-cultural expertise spans 14 countries, six languages and hundreds of companies. As founder and CEO of Lead From Within, her proprietary leadership program is engineered to be a catalyst for leaders who want to enhance performance and make a meaningful difference in their companies, their lives, and the world.

Of Lolly's many awards and accolades, Lolly was designated a Top-50 Leadership and Management Expert by Inc. magazine. Huffington Post honored Lolly with the title of The Most Inspiring Woman in the World. Her writing has appeared in HBR, Inc.com, Fast Company (Ask The Expert), Huffington Post, and Psychology Today, and others. Her newest book, The Leadership Gap: What Gets Between You and Your Greatness has become a national bestseller.
---