In today's workplace, there are many people who think that the best way to advance in the work place is to be agreeable.
So many of us have swallowed our own voice for so long that we have forgotten what truth tastes like.
We are afraid to use our heart's voice because:
We are afraid of being reprimanded. When we're wrapped up in pleasing others, the idea that we will hear something harsh in return keeps us from speaking up.
We are afraid of rejection. The fear of rejection causes us to shy away from the risk of making waves, even when we realize trying to maintain the status quo is ultimately a losing proposition.
We are afraid of conflict. When we fear conflict, we avoid it at all cost—even at the price of our soul.  We tend to align ourselves only with those who think and believe as we do in order to avoid conflict. We think we are playing it safe, but are we?
We are afraid of being rude. But is it rude when we express ourselves, when we give our opinion? What an excellent thing to be as rude as that with our convictions.
We are afraid of being alienated. Nobody wants to be on on the outskirts, but when we don't speak up we alienate ourselves from ourselves.
We are afraid of hurting people's feelings. Empathy is a virtue, but when we're overly empathetic we can lose our sense of self.
We are afraid of losing the approval of others. Many of us are people pleasers and want to please others at the expense of our own respect. It's a basic human characteristic to want respect and acceptance.
There are many reasons why we don't speak up or speak out.  But there is only one reason to speak from the heart.
The voice of the heart stems from our convictions. It allows others to see the character of who you are.
The mind is rational. It says that if we speak out we will be in trouble; if we state what we think there will be consequences.
The best insurance we can take out on our leadership is to invest in the message of our words, by voicing our heart.
We owe it to ourselves not to be afraid of our voice. It is not there to be silent.
It there to let us know that we have something worthwhile to say.
In our efforts to protect ourselves from pain, from fear, from sadness, from discomfort, from failure, from the parts of our life we have been conditioned to believe are dangerous or dark, we have stopped voicing our truth.
The masks we wear to protect ourselves are armors, but they don't really protect us— they just numb us.
Voice your heart- you owe it to yourself not to be anesthetized, the truth isn't always beauty, but the desire for it is.
Lead From Within:. Life is too precious to waste our time on not voicing our heart. Speak up today. Say what you mean and mean what you say.
---
N A T I O N A L   B E S T S E L L E R
The Leadership Gap: What Gets Between You and Your Greatness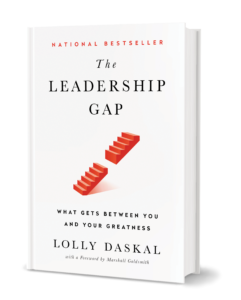 After decades of coaching powerful executives around the world, Lolly Daskal has observed that leaders rise to their positions relying on a specific set of values and traits. But in time, every executive reaches a point when their performance suffers and failure persists. Very few understand why or how to prevent it.
---
Additional Reading you might enjoy:

Photo Credit: Getty Images
---
Lolly Daskal is one of the most sought-after executive leadership coaches in the world. Her extensive cross-cultural expertise spans 14 countries, six languages and hundreds of companies. As founder and CEO of Lead From Within, her proprietary leadership program is engineered to be a catalyst for leaders who want to enhance performance and make a meaningful difference in their companies, their lives, and the world.

Of Lolly's many awards and accolades, Lolly was designated a Top-50 Leadership and Management Expert by Inc. magazine. Huffington Post honored Lolly with the title of The Most Inspiring Woman in the World. Her writing has appeared in HBR, Inc.com, Fast Company (Ask The Expert), Huffington Post, and Psychology Today, and others. Her newest book, The Leadership Gap: What Gets Between You and Your Greatness has become a national bestseller.
---