The importance of trust is an emerging topic in business these days, showing up in advertisements, blogs, books and in articles. But unlike most buzzwords, trust is an enduring concept.
Trust matters because it is at the core of everything we do. With it, few things are out of reach; without it, leadership is meaningless.
Aristotle defines his concept of ethos, or trust, as comprising three attributes: first, intelligence and competence; second, character (that is, reliability and honesty); and third, goodwill.
These same elements of competence, reliability, honesty and consistency continue to form the foundation of trust. Cultivate these elements within yourself, and the trust of others will follow.
So how can you earn trust?
Be credible. Hold yourself to a high standard. No cutting corners, no coverups. Everything you do as a leader is transparent and as good as your word.
Be consistent. Constantly evaluate yourself, measuring your accomplishments and actions not against others but against your goals, your words, your beliefs.
Be competent. Insecure leaders may resort to bragging, but truly competent leaders allow their work to speak for itself. That means a commitment to learning and to building a base of experience.
Be connected. Connection is at the heart of trust—when you are connected you care about others, you communicate with them, you demonstrate the trust and respect you wish to receive.
And once you have trust, how can you keep it?
Be an example. Make sure your actions match your words and beliefs. Lead by example, instructing others through consistency, competency and communication.
Speak the truth. When the topic is difficult, when circumstance are challenging—that is when the truth is most important. When you speak from truth, you deepen respect.
Lead with integrity. Make sure you keep your actions congruent with your values and your words. That consistency is what integrity is made of.
Be accountable. Don't hide your mistakes or make excuses. Be accountable for your actions and let everyone see you learn from them.
Help others succeed.Become an advocate for others and work for the advancement of those around you. When you help others succeed, learn and grow, you will not only earn trust but you will keep it for a long time.
Trust is at the heart of everything you do, the foundation of every relationship—with employees, colleagues, partners, family and friends- able to capitalize on what matters most.
Lead From Within: Trust is what matters most, and building trust requires an open mind, open heart and open will.
---
N A T I O N A L   B E S T S E L L E R
The Leadership Gap: What Gets Between You and Your Greatness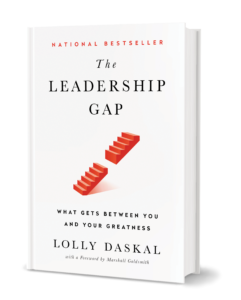 After decades of coaching powerful executives around the world, Lolly Daskal has observed that leaders rise to their positions relying on a specific set of values and traits. But in time, every executive reaches a point when their performance suffers and failure persists. Very few understand why or how to prevent it.
---
Additional Reading you might enjoy:

Photo Credit: Getty Images
---
Lolly Daskal is one of the most sought-after executive leadership coaches in the world. Her extensive cross-cultural expertise spans 14 countries, six languages and hundreds of companies. As founder and CEO of Lead From Within, her proprietary leadership program is engineered to be a catalyst for leaders who want to enhance performance and make a meaningful difference in their companies, their lives, and the world.

Of Lolly's many awards and accolades, Lolly was designated a Top-50 Leadership and Management Expert by Inc. magazine. Huffington Post honored Lolly with the title of The Most Inspiring Woman in the World. Her writing has appeared in HBR, Inc.com, Fast Company (Ask The Expert), Huffington Post, and Psychology Today, and others. Her newest book, The Leadership Gap: What Gets Between You and Your Greatness has become a national bestseller.
---