In business today, every leader, every boss, every chief executive officer, wants their company to be successful and so they advocate for tough-minded attitudes and strong-willed personalities.
And in doing so, they sometimes miss the mark of creating the success they are after. They forget that for leadership to work, for business to excel, you need a balance. It takes not only tough-mindedness but also tenderheartedness to make a business succeed and grow.
A great leader partners a tough mind with a tender heart.
A tough-minded leader needs to also advocate for tenderhearted skills.
To do so, you need to lead with these attributes:
Tough-minded on focus and tenderhearted in flexibility. Great leaders need focus to gain success, but they must be flexible and agile in all circumstances to be truly successful.
Tough-minded on values and tenderhearted in appreciation. Great leaders understand that their values are the stamp of their leadership, but they will go out of their way to show appreciation for others; for who they are and what matters to them.
Tough-minded about creativity and tenderhearted in imagination. Great leaders know that creativity is the essence of innovation, but they must be soft-hearted enough to engage and embrace the imagination of others if they want to fuel innovation.
Tough-minded toward vision and tenderhearted in valor. Great leaders know to be successful they must have a clear and succinct vision so others know the direction, but they must also encourage acts of courage, flexibility, and boldness to ensure that their vision is successfully achieved.
Tough-minded on standards and tenderhearted about purpose. Great leaders understand you must not compromise on standards, but they also recognize that each person has their own purpose, and they allow others to express their meaning.
Tough-minded on accountability and tenderhearted in admiration. Great leaders knows they must show results and be responsible, but an important aspect of their success is acknowledging and appreciating those who have helped them secure those results.
When we have confidence in our people,and we treat them with a tender heart, they trust us with the tough decisions and stick with us through even the toughest times.
Do not mistake a tender heart for a weakened mind, and do not confuse a tough mind for a heartless soul.

If you want to excel in business and transcend in leadership, allow your tough mind and tender heart to integrate.

Lead From Within: We must remember we cannot be too much of one thing and not enough of its complement. We must find the equilibrium in everything—in our personal life, in business, and especially in effective leadership.
Photo Art: In Japanese, kanji "kokoro" can also be pronounced as "shin"~  Shin means "heart" and can also mean "mind." We need the integration of heart and mind to make us whole.
---
N A T I O N A L   B E S T S E L L E R
The Leadership Gap: What Gets Between You and Your Greatness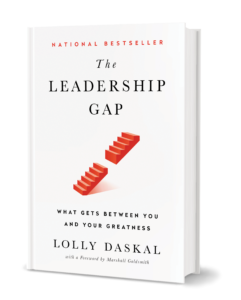 After decades of coaching powerful executives around the world, Lolly Daskal has observed that leaders rise to their positions relying on a specific set of values and traits. But in time, every executive reaches a point when their performance suffers and failure persists. Very few understand why or how to prevent it.
---
Additional Reading you might enjoy:

---
Lolly Daskal is one of the most sought-after executive leadership coaches in the world. Her extensive cross-cultural expertise spans 14 countries, six languages and hundreds of companies. As founder and CEO of Lead From Within, her proprietary leadership program is engineered to be a catalyst for leaders who want to enhance performance and make a meaningful difference in their companies, their lives, and the world.

Of Lolly's many awards and accolades, Lolly was designated a Top-50 Leadership and Management Expert by Inc. magazine. Huffington Post honored Lolly with the title of The Most Inspiring Woman in the World. Her writing has appeared in HBR, Inc.com, Fast Company (Ask The Expert), Huffington Post, and Psychology Today, and others. Her newest book, The Leadership Gap: What Gets Between You and Your Greatness has become a national bestseller.
---