Self-confidence is an essential part of leadership. A leader with self-confidence thinks positively about the future and is willing to take the risks necessary to achieve their personal and professional goals.
 A leader who lacks self-confidence, on the other hand, is less likely to feel that they can achieve their goals, with a negative perspective about themselves and what they hope to gain in life—attitudes that are destructive to leadership and success.
 The good news is that self-confidence is something you can improve and build. Not every leader is born with natural self-confidence. Here are some of the techniques they use to boost it:
Address your self-doubt. Everyone has self-doubt, but if you don't address it, it doesn't go away. Your inner voice of self-doubt is never helpful and will hold you back. Identify it, work to understand its origins, and resolve to tune it out entirely.
Learn to leverage your self-doubt into confidence. My latest book, The Leadership Gap, includes a whole chapter on how to leverage your self-doubt. The simple version is this: when in doubt, concentrate on what you know, what you know how to do and how well you do it, and put all the self-doubt aside. If you focus on your competence and capabilities you'll find the confidence you need.
Eliminate triggers. Avoid negative thinking or spending time around things that can make you feel bad about yourself. These triggers may be people or places or situations—anything that leaves you thinking you're not good enough.
Recognize your talents. Spend some time recognizing and reconnecting with your strongest talents to stay focused on your strengths. Look inward instead of outward to avoid comparing yourself to others and falling into the trap of imposter syndrome ("nobody knows what an unqualified loser I really am"). Give yourself permission to take pride in what you do well and to express yourself in your talents and strengths.
Bounce back from your mistakes. Remember that no one is perfect. Even the most confident people have insecurities, and there's no one alive who hasn't made a mistake. Don't let one wrong turn, or even a few of them, make you think you don't have what it takes to achieve your goals and reach your success.
Surround yourself with people who believe in you. Nothing is as powerful as people who think you're great, who believe you can do the impossible, and who have all the confidence in the world in you. Surround yourself with those people and be intentional about maintaining those connections. Stick with the people who lift your perspective and avoid (or at least tune out) those who make you feel bad or doubt yourself.
Take pride in yourself. Many people think that taking pride in yourself negates humility. But you can be proud of yourself without sacrificing humility. Pride feeds the soul; it helps you recognize and appreciate who you are and what you can accomplish. Sometimes it's the motivation we need when things get tough.
Lead from within: Confidence is as important to leadership as oxygen is to breathing. If you're lacking in confidence, we are lacking in influence.
---
N A T I O N A L   B E S T S E L L E R
The Leadership Gap: What Gets Between You and Your Greatness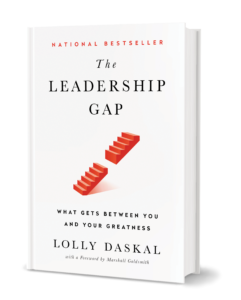 After decades of coaching powerful executives around the world, Lolly Daskal has observed that leaders rise to their positions relying on a specific set of values and traits. But in time, every executive reaches a point when their performance suffers and failure persists. Very few understand why or how to prevent it.
---
Additional Reading you might enjoy:

Photo Credit: Getty Images
---
Lolly Daskal is one of the most sought-after executive leadership coaches in the world. Her extensive cross-cultural expertise spans 14 countries, six languages and hundreds of companies. As founder and CEO of Lead From Within, her proprietary leadership program is engineered to be a catalyst for leaders who want to enhance performance and make a meaningful difference in their companies, their lives, and the world.

Of Lolly's many awards and accolades, Lolly was designated a Top-50 Leadership and Management Expert by Inc. magazine. Huffington Post honored Lolly with the title of The Most Inspiring Woman in the World. Her writing has appeared in HBR, Inc.com, Fast Company (Ask The Expert), Huffington Post, and Psychology Today, and others. Her newest book, The Leadership Gap: What Gets Between You and Your Greatness has become a national bestseller.
---