He walked into our coaching session smug and proud. He did not think he needed a coach.
He didn't want to work on self –development, nor did he think he needed to. He felt he was fine as he was, successful as he could be and wealthy as he should be for a man in his position.
But we soon found out that he appeared much more confident, much more in control, and much more smug than he really was.
Most of us have well-developed strategies for how to achieve career success. But when it comes to character development, we're too often willing to leave it up to chance—and sometimes we all need help.
Here are some strategies to build your character while you're building your career:
Pride will leave you with nothing. Leaders who wear their pride like a badge of honor are misleading themselves. Pride makes it hard to deal with the reality of your true self; it deludes you into thinking you are the author of your own life. Humility is the cornerstone of great character.
Overconfidence will always bite you. We live in a culture where we advertise our overconfidence and promote ourselves with enormous arrogance. To lead with character, you must be able to surrender to something within and see beyond what you show others. Have enough conviction in yourself that you don't have to mask it in overconfidence.
If you wait until you're ready, you'll wait for the rest of your life. Perfectionism is the killer of progress; when we feel we have to be perfect we tend to experience the gravity of our limitations. The job of the wise leader is to swallow perfectionism. Be the leader who is about moving forward and don't allow perfectionism to get in the way of progress.
Your character is what you choose to make it. Those who are acutely aware of their flaws believe that character is built in the struggle against our own weaknesses. That makes it strategic to spend time learning about yourself—inside and out. The most successful leaders know their strengths, but they're also able to confront their flaws.
Coaching is the universal language for learning and growing No person can achieve self-actualization on their own. The best strategy for cultivating character is to find a supportive coach, attentive mentor, or someone you admire to help you along the way. Everybody needs assistance from those that can offer support and inspire us to be better people. When you are in the company of people of good character, you absorb some of their best traits.
Success can last a lifetime but significance can last much longer. You probably know someone significant—someone who's built a strong inner character and achieved a certain depth. They're often nearing the end of their struggle, and they work to build significance that doesn't just endure throughout this lifetime but continues long thereafter.
The essence of life and our leadership is to confront yourself and have strategies that will construct your character—the quality that fuels your leadership and significance.
Lead From Within: As you learn the vocabulary of character you'll be prepared to incorporate them into your life every time you lose your way.
---
N A T I O N A L B E S T S E L L E R
The Leadership Gap: What Gets Between You and Your Greatness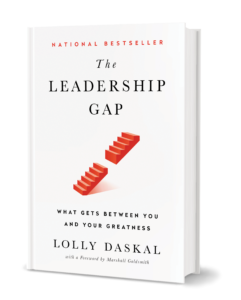 After decades of coaching powerful executives around the world, Lolly Daskal has observed that leaders rise to their positions relying on a specific set of values and traits. But in time, every executive reaches a point when their performance suffers and failure persists. Very few understand why or how to prevent it.
---
Additional Reading you might enjoy:

Photo Credit: Getty Images
---
Lolly Daskal is one of the most sought-after executive leadership coaches in the world. Her extensive cross-cultural expertise spans 14 countries, six languages and hundreds of companies. As founder and CEO of Lead From Within, her proprietary leadership program is engineered to be a catalyst for leaders who want to enhance performance and make a meaningful difference in their companies, their lives, and the world.

Of Lolly's many awards and accolades, Lolly was designated a Top-50 Leadership and Management Expert by Inc. magazine. Huffington Post honored Lolly with the title of The Most Inspiring Woman in the World. Her writing has appeared in HBR, Inc.com, Fast Company (Ask The Expert), Huffington Post, and Psychology Today, and others. Her newest book, The Leadership Gap: What Gets Between You and Your Greatness has become a national bestseller.
---