Great leaders often pride themselves on having a great mind. They are often thought of as brilliant philosophers, scholars, savants, sages, intellectuals, or geniuses by the outside world.
But there is this thing called ego—and it can be the undoing of even the greatest thinker. It's part of our mind that protects its own thoughts and identity.
To manage our ego we must understand it intellectually, behaviorally, and emotionally.
When it comes to the ego there is a very distinct language, the language of separation. When you feel separate from others and isolated within yourself, you are in the company of ego.
The language of ego creates fear and judgment. It pushes you in the direction of making other people wrong, even though you know that self is about inclusiveness.
Ego can even separate you from yourself with damaging thoughts like I am not good enough or I am not deserving.
All ego does is EDGE OUT OUR GREATNESS: If we want to unmask your ego try the following:
Celebrate your authentic self: The self is everything the ego is not: secure, seeking, selfless, self-reliant, sensitive, serious, service-oriented, sharing, silent, simple, single, still. You are already enough and you don't need anything nor anyone to give you permission to be yourself. So just start being yourself
Fill your life with meaning: If you are always wanting more and are not satisfied with what you have, you can leave you feeling empty. Our emptiness is driven by ego. Ego makes us feel we never have enough. If you want to be content fill your life with meaning, meaning gives us purpose.
Stop looking so far ahead; you lose your presence: Unmasking of the ego is getting to the heart of what matters. The ego wants you to believe you have somewhere to go, but the self says you have arrived. Be present in your life while you are creating your future. What you do today matters, because its our blueprint for our destiny.
What other people think of you; is none of your business: If you're obsessed with what others think of you, you are likely going to create a false persona of yourself which you will constantly be bending yourself to fit the image of what others want you to be and if that's true, you will end up losing yourself instead of creating yourself.
Learn to manage yourself gracefully: Be accountable for yourself. Who you are is more important than what you do and how you do it, because the what, the how, the where, can be processed, if you can learn to manage who you are, the rest will take care of itself.
Lead From Within: The essence of who we are, is seeking our true self, the parts of ourselves that is made up of heart of authentic self.
---
N A T I O N A L   B E S T S E L L E R
The Leadership Gap: What Gets Between You and Your Greatness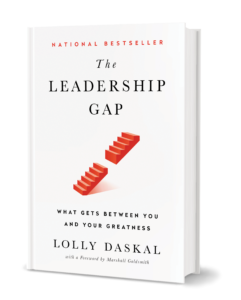 After decades of coaching powerful executives around the world, Lolly Daskal has observed that leaders rise to their positions relying on a specific set of values and traits. But in time, every executive reaches a point when their performance suffers and failure persists. Very few understand why or how to prevent it.
---
Additional Reading you might enjoy:

Photo Credit: Getty Images
---
Lolly Daskal is one of the most sought-after executive leadership coaches in the world. Her extensive cross-cultural expertise spans 14 countries, six languages and hundreds of companies. As founder and CEO of Lead From Within, her proprietary leadership program is engineered to be a catalyst for leaders who want to enhance performance and make a meaningful difference in their companies, their lives, and the world.

Of Lolly's many awards and accolades, Lolly was designated a Top-50 Leadership and Management Expert by Inc. magazine. Huffington Post honored Lolly with the title of The Most Inspiring Woman in the World. Her writing has appeared in HBR, Inc.com, Fast Company (Ask The Expert), Huffington Post, and Psychology Today, and others. Her newest book, The Leadership Gap: What Gets Between You and Your Greatness has become a national bestseller.
---