As a coach, I spend a lot of time listening to leaders. Many of the things I hear probably wouldn't be said to anyone else. But behind the scenes it is hard for leaders—it takes a lot of courage to lead, but most of us take it for granted.
Aristotle called courage the first virtue, because it makes all of the other virtues possible. And in my line of work as a coach I believe he is right; if you are courageous it really makes all that you do as a leader have merit.
The courageous leader takes the risks when they:
Go out on a limb. It takes a lot of courage to take initiative and step out, but when it comes to new ideas and new technology, or simply changing direction in an organization, courageous leaders know the future belongs to the risk takers. Weak leaders doubt; courageous leaders are ready to take the risk for action.
Give credit to others. Courageous leaders take a little more than their share of the blame and a little less than their share of the credit. It is amazing what can be accomplished if you do not care who gets the credit.
Have confidence in others. Trusting others with their abilities and their capabilities means empowering them to decide and think for themselves. The confidence of a leader creates self-confidence, which in turn magnifies strengths and skills.
Speak their mind. Courageous leaders speak up when no one else will. They know life is short, business is important, and there's no time to leave important words unsaid. When it comes to raising difficult issues and unpopular points, courageous leaders have a gift for speaking their mind without offending others.
Provide feedback. Courageous leaders are skillful and courageous communicators who know how to give feedback in a way that's forthright, helpful, and positive.
Stand up for others. Some organizations have a look-out-for-yourself culture that results in placing blame and throwing others under the bus. Courageous leaders not only refuse to play but also stand by colleagues and employees when no one else will. They are fearless in their pursuit of fairness.
Create a trusting culture. Sound workplace ethics improve an organization's impact by changing the way people speak to each other and work with each other. Courageous leaders create a fearless culture and encourage people to speak their mind. Empowered people work harder, deal better and are more willing to face and address important issues.
Courageous leaders are seldom acknowledged for their virtues; some of the best leaders are taken for granted. While we're cultivating our own courage, let's look around our business, organizations, institutions and workplaces to find courageous leaders and celebrate them for the risks they take every day on our behalf.
The truth is our world needs great leaders now more than ever. We need courageous leaders who will see into the future and set the agenda for others to get there.
You can develop the habit of courage by practicing it. Whenever you have a tendency to hesitate or back off from a challenge, force yourself to go forward with courage. Make it your goal to reach deep down within yourself and act with courage. Those who follow you will be glad you did!
LEAD FROM WITHIN: Courageous leaders make a choice to take action regardless of any fear. They know that courage changes lives—first our own, then others.
---
N A T I O N A L   B E S T S E L L E R
The Leadership Gap: What Gets Between You and Your Greatness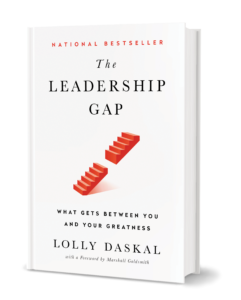 After decades of coaching powerful executives around the world, Lolly Daskal has observed that leaders rise to their positions relying on a specific set of values and traits. But in time, every executive reaches a point when their performance suffers and failure persists. Very few understand why or how to prevent it.
---
Additional Reading you might enjoy:

Photo Credit: Getty Images
---
Lolly Daskal is one of the most sought-after executive leadership coaches in the world. Her extensive cross-cultural expertise spans 14 countries, six languages and hundreds of companies. As founder and CEO of Lead From Within, her proprietary leadership program is engineered to be a catalyst for leaders who want to enhance performance and make a meaningful difference in their companies, their lives, and the world.

Of Lolly's many awards and accolades, Lolly was designated a Top-50 Leadership and Management Expert by Inc. magazine. Huffington Post honored Lolly with the title of The Most Inspiring Woman in the World. Her writing has appeared in HBR, Inc.com, Fast Company (Ask The Expert), Huffington Post, and Psychology Today, and others. Her newest book, The Leadership Gap: What Gets Between You and Your Greatness has become a national bestseller.
---