She was an successful leader in charge of a large global team, revered but also feared. Her success had not come overnight but after great challenges and enormous difficulties.
When I met her in her office she was negative, cynical and angry, so edgy and tense and defensive it was hard to talk to her. I had been hired as her coach to help her.
In time, she was able to overcome the marks of her troubling journey. But to do so, she had to face an element of risk: letting go of her familiar defenses and opening herself to the possibility of change.
We are not born into cynicism, anger, tension, or defensiveness. They arise in response to the circumstances of our lives. To be effective as leaders, we have to work through and move beyond those acquired traits, to alter our responses.
We have to risk being changed.
To change our negativity, we must ask ourselves how it serves us. If you expect the worst, you'll never be disappointed. A pessimist sees the difficulty in every opportunity, but an optimist sees the opportunity in every difficulty. the choice is ours.
To change our cynicism, we must ask ourselves where it originates. Cynicism sometimes masquerades as wisdom. Because cynics are afraid they will get hurt or be disappointed, they cut to the chase and they say no before anything bad can happen. But no keeps us closed off. Saying yes begins things and gives them room to grow. Saying yes leads to knowledge.
To change our edginess, we must ask ourselves what's stressing us. In times of stress, the best thing we can do for each other is to listen with our ears and our hearts and to remember that feelings are just as important as thinking. Under stress, we can train ourselves to go in either direction—toward the positive or the negative.
To change our anger, we must ask ourselves what's angering us. It is wise to direct your anger toward problems, not people, and to focus your energies on answers, not excuses. Anger is usually a feeling that makes our mouths work faster than our minds, and then we regret it.
To change our tension, we must ask ourselves if our agitation is making us unworkable. When we lead with anxiety we are allowing the pressure of the job to take over. In so doing, we risk leaving destructive marks on those around us.
To be changed, we have to weigh what has happened to us against what is happening within us.
It is hard to stay grounded when you feel the ground has been pulled from underneath you. But leadership is a challenge that dares us to study ourselves, at every nook and cranny, every black hole and bright spot, whether it's murky, creepy, splendid, spooky, frightening, joyful, inspiring or wrathful—and then to have the courage to address and change the things that aren't serving us well.
Lead From Within: To risk changing ourselves we must look within ourselves and find what is confused and what is brilliant, what is bitter and what is sweet. When we do, it isn't just ourselves that we're discovering, but everyone and everything.
---
N A T I O N A L   B E S T S E L L E R
The Leadership Gap: What Gets Between You and Your Greatness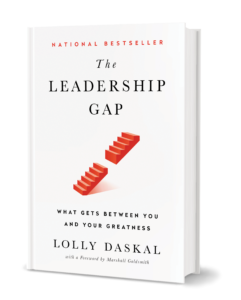 After decades of coaching powerful executives around the world, Lolly Daskal has observed that leaders rise to their positions relying on a specific set of values and traits. But in time, every executive reaches a point when their performance suffers and failure persists. Very few understand why or how to prevent it.
---
Additional Reading you might enjoy:

Photo Credit: Getty Images
---
Lolly Daskal is one of the most sought-after executive leadership coaches in the world. Her extensive cross-cultural expertise spans 14 countries, six languages and hundreds of companies. As founder and CEO of Lead From Within, her proprietary leadership program is engineered to be a catalyst for leaders who want to enhance performance and make a meaningful difference in their companies, their lives, and the world.

Of Lolly's many awards and accolades, Lolly was designated a Top-50 Leadership and Management Expert by Inc. magazine. Huffington Post honored Lolly with the title of The Most Inspiring Woman in the World. Her writing has appeared in HBR, Inc.com, Fast Company (Ask The Expert), Huffington Post, and Psychology Today, and others. Her newest book, The Leadership Gap: What Gets Between You and Your Greatness has become a national bestseller.
---