Painters have a brush, sculptors have a chisel, surgeons have a scalpel, and conductors have a baton—and leaders have language.
In a way, it is language that makes our reality exist. Attaching language to an event, experience, or circumstance allows it to be interpreted, understood and shared.
We do not speak language; language speaks to us.
Talk is the most ubiquitous social activity that human beings engage in. Not surprisingly, it is language that builds the social and cultural worlds we live in. It is arguably the most important resource for exercising more effective leadership.
Language is a system of communication; it is the critical link between the created present and the uncreated future, it is the glue that binds our reality into results.
For leaders, language is a vehicle for making decisions, resolving disputes, enacting practices, measuring results, and sharing innovation and creativity.
Like any other language, the language of leadership has to be learned, honed, and practiced. Here are a few ways in which the secret language of leaders, truly matter:
The roots of language are logos, ethos, and pathos—the division first coined by Aristotle. We can think of them as an open mind, open will, and open heart.
Logos is the Greek word for "word," representing the process of thinking. Our thoughts are filled with logic and reason. Logos is leading with an open mind of inquiry. Inquiry leads to new interest, which in turn leads to insight—a hybrid of knowledge and understanding derived from an "inward sight." The more open your mind and the greater your depth of observation, the more information you can attain.
In leadership language, an example might be: "OK, we've thought this through and discovered every logical reason why this approach didn't work. Now it's time to ask more open-ended questions and see what insight we can gain."
Ethos is the Greek word for character (and the source of the English word "ethic"), representing leadership with open will. Ethos is leading with character when we lead with character we build credibility. When we have credibility, we are trusted.To lead means to take chances, to follow new paths. Open will means surrendering to chance, allowing what may come to emerge without resistance.
In leadership language: "Last quarter we did well, but this quarter we have to do great. What can we do differently? What can we give up? What is something new we can try that will help us excel?"
Pathos is the Greek word for feeling and passion. Pathos is the leading with open heart. As a leader, you must have an open heart to relate to others, the language of heart is passion, compassion, and caring.
In leadership language: "I know that this restructuring has been hard for you. Your workload has tripled, and I'm sure you're extremely stressed. What do you need to make your job easier? I'm here to help."
With an open mind (logos), open will (ethos), and open heart (pathos), we can be the kind of leader who understands that others must see our character, our courage, our tenacity to be empowered and inspired by us—to be led by us.
Once language is evolved, all of human life is changed.

Lead From Within: The function of language is not only to communicate information or label things, but also to bring about an effect on the people in our lives.
---
N A T I O N A L   B E S T S E L L E R
The Leadership Gap: What Gets Between You and Your Greatness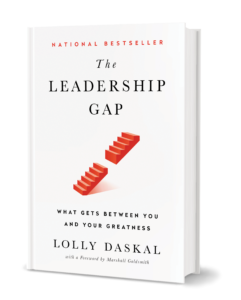 After decades of coaching powerful executives around the world, Lolly Daskal has observed that leaders rise to their positions relying on a specific set of values and traits. But in time, every executive reaches a point when their performance suffers and failure persists. Very few understand why or how to prevent it.
---
Additional Reading you might enjoy:

Photo Credit: Getty Images
---
Lolly Daskal is one of the most sought-after executive leadership coaches in the world. Her extensive cross-cultural expertise spans 14 countries, six languages and hundreds of companies. As founder and CEO of Lead From Within, her proprietary leadership program is engineered to be a catalyst for leaders who want to enhance performance and make a meaningful difference in their companies, their lives, and the world.

Of Lolly's many awards and accolades, Lolly was designated a Top-50 Leadership and Management Expert by Inc. magazine. Huffington Post honored Lolly with the title of The Most Inspiring Woman in the World. Her writing has appeared in HBR, Inc.com, Fast Company (Ask The Expert), Huffington Post, and Psychology Today, and others. Her newest book, The Leadership Gap: What Gets Between You and Your Greatness has become a national bestseller.
---