We're hearing a lot these days about "humanizing" business, but it's really based on the oldest of concepts of where you can't have affluence without responsibility, contentment without values, wisdom without beliefs, and commerce without ethics and you certainly can't have leadership without people, which is without…humanity.
The genius of leadership is its humanness.

If we don't recognize the importance on human engagement, human communication, human development, we will not have a business – or, for that matter, anyone to lead.
True heart-based leadership is humanity leadership. It starts with some universal principles:
Human recognition. Each person deserves to be valued.
Human openness. Each person deserves the truth.
Human acceptance.  Each person deserves acceptance.
Human respect. Each person deserves respect.
Human focus. Each person deserves attention.
When these principles are in place, their influence is felt in everything we do.
Every conversation becomes meaningful, every meeting fosters effective connections, every transaction is important.
Humanity is born out of the heart's revelation that another person is every bit as important as we are.
Leading and humanity is a partnership. It takes the best parts of ourselves, our diverse backgrounds, our distinct gifts and it emerges them together to complement each other.
In the world of fast paced technology and globalization of our businesses the domination will shift from control leading to the humanity of leadership.
Gone soon will be the days of power, control, secrecy and silos.
Today the road to success is in the essence of the people, in how they communicate, connect and collaborate with character.
People are the link to humanity and our character is our salvation.
Lead From Within: Put the importance of humanity back into your leadership and show others how their business and life can grow, succeed in profitable, productive and profound ways.
---
N A T I O N A L   B E S T S E L L E R
The Leadership Gap: What Gets Between You and Your Greatness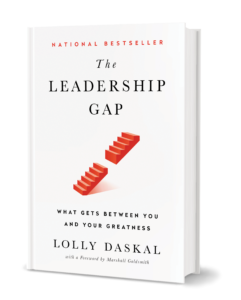 After decades of coaching powerful executives around the world, Lolly Daskal has observed that leaders rise to their positions relying on a specific set of values and traits. But in time, every executive reaches a point when their performance suffers and failure persists. Very few understand why or how to prevent it.
---
Additional Reading you might enjoy:

Photo Credit: Getty Images
---
Lolly Daskal is one of the most sought-after executive leadership coaches in the world. Her extensive cross-cultural expertise spans 14 countries, six languages and hundreds of companies. As founder and CEO of Lead From Within, her proprietary leadership program is engineered to be a catalyst for leaders who want to enhance performance and make a meaningful difference in their companies, their lives, and the world.

Of Lolly's many awards and accolades, Lolly was designated a Top-50 Leadership and Management Expert by Inc. magazine. Huffington Post honored Lolly with the title of The Most Inspiring Woman in the World. Her writing has appeared in HBR, Inc.com, Fast Company (Ask The Expert), Huffington Post, and Psychology Today, and others. Her newest book, The Leadership Gap: What Gets Between You and Your Greatness has become a national bestseller.
---