There's a good reason we spend so much time thinking and talking about teams.
Every organization in every industry pursues ambitious projects, works hard to get and serve clients and customers,  tackle new markets, new ideas, and new innovation.
Competition is fierce, and it takes a great team to deliver the kind of performance that keeps organizations successful.
And there are no quick answers about how to build that great team.
But after years of observing many team dynamics, I have come to recognize a few elements that make up a top-performing team:
A compelling vision and meaningful purpose: Top-performing teams have a defined vision and purpose that resonate with its members and draw them in.
Clarified roles and skills: Top-performing teams clearly identify the role and expectations of each member based on their talents and skills. Research shows that collaboration improves when the roles of individuals are clearly defined and understood.
Strategy and goals: Top-performing teams need a clearly defined strategy, plan, and goals. Strategy provides a map that shows where the team is going, and planning and goals tell how they'll get there.
Commitment and accountability: Top-performing teams need for each member to hold a personal commitment and individual accountability for their role, while still supporting one another.
Mutual trust: Top-performing teams spend time cultivating trust, investing in relationships, and collaboratively developing and refining their mission, purpose, roles, and challenges.
Challengers and collaborators: Top-performing teams need diversity in personalities and talent. They need members who don't just settle for pleasant conversation but who respectfully challenge and ask, and members who build relationships and bring people together.
Communication and dialogue: Top-performing teams need channels of communication that are open, authentic, challenging, courageous, and real. There is no room for passive aggression and backbiting. Team members are free to speak from the heart and embrace dialogue even in disagreement.
There will never be a perfect team, because teams are, after all, made up of imperfect people.

Every team his its own strengths and frustrations, But the best teams have a vision. They communicate well and they know their goals, skills, and talents.
When teams are given the tools to truly collaborate, they can create true excellence.

Lead From Within: We are not trying to mandate perfection but to build teams whose hearts are beating to the same rhythm.
---
N A T I O N A L   B E S T S E L L E R
The Leadership Gap: What Gets Between You and Your Greatness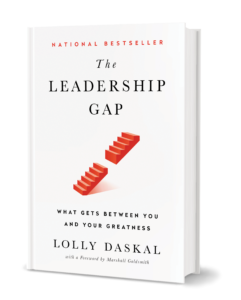 After decades of coaching powerful executives around the world, Lolly Daskal has observed that leaders rise to their positions relying on a specific set of values and traits. But in time, every executive reaches a point when their performance suffers and failure persists. Very few understand why or how to prevent it.
---
Additional Reading you might enjoy:

Photo Credit: Getty Images
---
Lolly Daskal is one of the most sought-after executive leadership coaches in the world. Her extensive cross-cultural expertise spans 14 countries, six languages and hundreds of companies. As founder and CEO of Lead From Within, her proprietary leadership program is engineered to be a catalyst for leaders who want to enhance performance and make a meaningful difference in their companies, their lives, and the world.

Of Lolly's many awards and accolades, Lolly was designated a Top-50 Leadership and Management Expert by Inc. magazine. Huffington Post honored Lolly with the title of The Most Inspiring Woman in the World. Her writing has appeared in HBR, Inc.com, Fast Company (Ask The Expert), Huffington Post, and Psychology Today, and others. Her newest book, The Leadership Gap: What Gets Between You and Your Greatness has become a national bestseller.
---