There are many articles written about the benefits of giving, the power of giving, the gift of giving. But we don't see many articles on receiving.
We are constantly told that it is better to give than to receive. And we have come to accept that giving is right and receiving is wrong, that giving is strong and taking is weak.
But life is not structured that way. It is about not only giving but circular motion, ebb and flow, give and take.
Life is not only about giving but learning the gift of receiving. And as we have worked to become the best givers, we have shut ourselves off from receiving.
The gift of receiving teaches us that everything is interconnected.
For one person to receive, someone else has to give.
It's a cycle and we need to develop new skills to experience it all:
Know you are good enough. Once you've begun accepting your own gifts, you're ready to receive the gifts of others.
Make space for receiving.  Start small, by receiving a smile or a hug. Get used to receiving and being grateful.
Open your heart. Cherish the fact that other people want to give to you. Until we can receive with an open heart, we're never really giving with an open heart.
Put an end to keeping score. Remember that life has its way of giving us what we need and that gifts keep going around and around.
Stop being disappointment. Embrace what is being offered, however imperfectly, and go with what is being given. Remember that people give what they can.
We are great givers, but we have lost the gift of receiving. 
The gift of receiving is not only about getting more out of life; it is about receiving life as a gift.
Our lives reflect a universal process. All of reality shares in our struggles, feels our pain, celebrates our joy, and cheers us on to live fully.
Conversely, all of reality hurts when we inflict pain upon others and ourselves. We are all connected—to one another, to the universe, and to all that is.
No matter what we tell ourselves, we are not alone.
Knowing this and understanding this may help us comprehend that ~for every gift there is a receiver, for every receiver there is a provider, and for every circumstance there is a supporter.
Once you've begun accepting your own gifts, you're ready to receive the gifts of others.
Lead From Within: When you receive, you have an opportunity to give the gift of gratitude, the gift of acknowledgment, the gift of saying, "Yes, I see and appreciate you."
---
N A T I O N A L   B E S T S E L L E R
The Leadership Gap: What Gets Between You and Your Greatness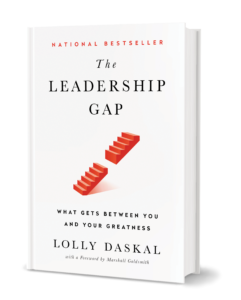 After decades of coaching powerful executives around the world, Lolly Daskal has observed that leaders rise to their positions relying on a specific set of values and traits. But in time, every executive reaches a point when their performance suffers and failure persists. Very few understand why or how to prevent it.
---
Additional Reading you might enjoy:

Photo Credit: Getty Images
---
Lolly Daskal is one of the most sought-after executive leadership coaches in the world. Her extensive cross-cultural expertise spans 14 countries, six languages and hundreds of companies. As founder and CEO of Lead From Within, her proprietary leadership program is engineered to be a catalyst for leaders who want to enhance performance and make a meaningful difference in their companies, their lives, and the world.

Of Lolly's many awards and accolades, Lolly was designated a Top-50 Leadership and Management Expert by Inc. magazine. Huffington Post honored Lolly with the title of The Most Inspiring Woman in the World. Her writing has appeared in HBR, Inc.com, Fast Company (Ask The Expert), Huffington Post, and Psychology Today, and others. Her newest book, The Leadership Gap: What Gets Between You and Your Greatness has become a national bestseller.
---