He called because everyone on his leadership team said he needed a great coach.
He was head of a large global organization, and the feedback he kept getting is that he was a lousy leader.
I thought to myself, This must be either a brave organization or a desperate one to ask their CEO to seek help. I wouldn't know which until I spoke to him.
The call was going fine until he said, "Stop asking me questions about myself—let's do a 360 and figure out what's wrong, and then you can give me some processes and I will make things right."
Surprised, I asked him, "What do you mean?"
He said, "Let's not dive too deeply into who I am as a person. That's not relevant. What matters here is who I am when I show up at work. And that is all."
Any leader who thinks that they can divide their personal and professional life is setting themselves up for disillusionment.
Because the honest truth is this: What gets divided gets separated. And the price is high.
Who you are as a person is who you bring to work. The best leaders bring their entire being to work, because they know that who you are says more than any words. There are three essentials to leadership: humility, clarity, and courage—and they require your all
What we try ignore is what we ordinarily highlight. Ignoring something doesn't mean it isn't there. In fact, life has a way of highlighting what we try to hide. As someone leading a team or a business, remember that people are looking to you—and noticing the things you choose not to deal with.
When we diverge we are most likely disrupting.  Another strategy for failure is to try to divert a problem to another leader or work group. The only difference between trying to ignore a problem and trying to divert it is that diversion disrupts another work group in addition to your own. If you own it, recognize it and deal with it before it becomes an emergency.
When we don't deal with conflict it generally comes with a price. When you try to avoid difficult people, strenuous situations, or tough circumstances, you are failing to lead. How many times have you hoped to yourself Maybe if I don't deal with it, it will go away? And how many times has the situation only grown worse as a result?
When we insist on fooling ourselves we are only deceiving ourselves. If you think you can consistently fool yourself, you're likely headed for major trouble. Great leadership requires honesty, beginning with yourself. The consequences of long-term deceit are enormous—for you personally and for your organization.
A company, a team, a leader that is divided against itself will never stand.
What's the difference between a leader and a lousy leader?
A leader works in the open, and a lousy leader is covert.
A leader leads, and a lousy leader doesn't even drive.
A leader is about integration; the lousy leader is about separation. 
We are as strong as we are united, and as weak as we are divided.
Lead From Within: What lies within us is what connects us, not separates us. All we need to do is look, listen, learn, and lead. Our humanity and unity are the things that make us strong.
---
N A T I O N A L B E S T S E L L E R
The Leadership Gap: What Gets Between You and Your Greatness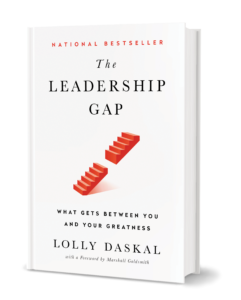 After decades of coaching powerful executives around the world, Lolly Daskal has observed that leaders rise to their positions relying on a specific set of values and traits. But in time, every executive reaches a point when their performance suffers and failure persists. Very few understand why or how to prevent it.
---
Additional Reading you might enjoy:

Photo Credit: Getty Images
---
Lolly Daskal is one of the most sought-after executive leadership coaches in the world. Her extensive cross-cultural expertise spans 14 countries, six languages and hundreds of companies. As founder and CEO of Lead From Within, her proprietary leadership program is engineered to be a catalyst for leaders who want to enhance performance and make a meaningful difference in their companies, their lives, and the world.

Of Lolly's many awards and accolades, Lolly was designated a Top-50 Leadership and Management Expert by Inc. magazine. Huffington Post honored Lolly with the title of The Most Inspiring Woman in the World. Her writing has appeared in HBR, Inc.com, Fast Company (Ask The Expert), Huffington Post, and Psychology Today, and others. Her newest book, The Leadership Gap: What Gets Between You and Your Greatness has become a national bestseller.
---