There is an old fable by Aseop about a man, the wind, and the sun.
One day the wind and the sun were talking about which was stronger. When they saw a man walking below in his overcoat, they decided to see who was more powerful. They dared each other to a contest: who could get the man's coat off?
The wind blew harshly down on the man, but the more powerfully it blew, the more tightly he wrapped his coat around himself.
Then the sun came out and started warming the air. The man started to unbutton his coat, and then as the sun grew brighter he took it off and sat down in the shade.
The wind, furious, asked, "How did you get him to take off his coat? What force did you use?" The sun said, "No force—I did it through gentleness and brightness."
It may not seem so on the surface, but this story has everything to do with leadership.
Great leadership operates like the sun:
The best leaders shine when they help others weather storms. They've experienced defeat, suffering, struggle, and loss, and they've found their way out of the depths. As a result, they're filled with warmth, compassion, and a gentle force. Like the sun, they bring comforting warmth and dry the rain.
The best leaders shine when they show respect. Their actions express interest and caring, no matter who they're dealing with. They're consistently thoughtful and generous. Like the sun, they illuminate everything around them.
The best leaders shine when they encourage others. Their encouragement lifts spirits, enhances self-confidence, and adds fuel to the work of others. Just a few simple words convey understanding and inspiration. Like the sun, they lend their radiance to everything they touch.
The best leaders shine when they listen with interest.When they listen, they really listen—in a spirit of caring and engagement, not just to gather information or pass the time or be polite. Like the sun, they bring light and clarity.
The best leaders shine when they acknowledge others. They make those around them feel valued and important—inspiring them to excel at everything they do. Like the sun, they infuse whatever they touch with their energy.
When the sun is shining warmly on us we feel we can do almost anything—no mountain is too high, no wind is too strong, no trouble too difficult to overcome. The best leaders have the same effect: they shine from within and they are gentle, kind, and powerful.
Lead From Within: Anyone can be a leader, but the leader who shines, who uses their power to help others, is the one who inspires everyone around to do their best.
---
N A T I O N A L   B E S T S E L L E R
The Leadership Gap: What Gets Between You and Your Greatness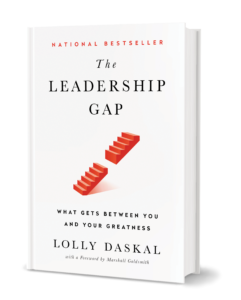 After decades of coaching powerful executives around the world, Lolly Daskal has observed that leaders rise to their positions relying on a specific set of values and traits. But in time, every executive reaches a point when their performance suffers and failure persists. Very few understand why or how to prevent it.
---
Additional Reading you might enjoy:

Photo Credit: Getty Images
---
Lolly Daskal is one of the most sought-after executive leadership coaches in the world. Her extensive cross-cultural expertise spans 14 countries, six languages and hundreds of companies. As founder and CEO of Lead From Within, her proprietary leadership program is engineered to be a catalyst for leaders who want to enhance performance and make a meaningful difference in their companies, their lives, and the world.

Of Lolly's many awards and accolades, Lolly was designated a Top-50 Leadership and Management Expert by Inc. magazine. Huffington Post honored Lolly with the title of The Most Inspiring Woman in the World. Her writing has appeared in HBR, Inc.com, Fast Company (Ask The Expert), Huffington Post, and Psychology Today, and others. Her newest book, The Leadership Gap: What Gets Between You and Your Greatness has become a national bestseller.
---