Just because you're a leader, there's no guarantee that you are leading. Sometimes your leadership is failing and you don't even know it.
Holding the position and the title of leader doesn't mean much if you're not taking the right actions.
Leadership is active—it's forever developing and improving, based not on who you are or where you appear on an org chart but the things you do every day.
What about your leadership?
Is it progressing or stagnant?
Are you moving ahead or treading water?
Have you stopped leading and are just going through the motions?
Here are 10 top symptoms to look out for:
1. Lack of vision.
Leaders are the ones with a compelling vision to share. It's your vision that sets the direction for everything you and your team do. If you don't know where you're going, it leaves people confused and uncertain. People need to know where they're going; they need their leader to set the direction and make it compelling enough that they want to follow it.
2. Pretending to know it all.
Leaders who think they know it all aren't really leading. The path of leadership is one of questioning, listening and learning, and the best leaders are on a constant journey of discovery. But you can't learn if you can't admit you don't know everything.
3. Failing to challenge the status quo.
The best leaders are uncomfortable with being comfortable. They're constantly and consistently challenging themselves to think bigger, do more and improve on what they see around them. If you're not challenging the status quo, not pushing back against the paradigms, you're not leading.
4. Lack of conversation.
Where there's no communication, disconnection is happening. When you're not connected and engaged with the people who are most valuable to you, you have stopped having influence and you're no longer leading. A true leader knows the importance of communication and staying engaged.
5. Absence of trust.
Trust is the foundation of leadership; when there is no trust there is no loyalty, no respect, no credibility—and it's a sure indication that you have stopped leading, because leadership cannot happen in the absence of trust.
6. Absence of change.
Leadership is about creating new things and moving forward in new ways. If nothing is changing, you're not leading.
7. Death of confidence.
No one wants to follow an insecure, unsure, self-conscious None of those traits will promote assurances that you can be trusted to lead and guide.
8. Silenced complaints.
A negative workplace is damaging, but some degree of complaint is healthy. The bottom line is this: if no one is complaining, people are settling, and they're scared to speak up.
9. Consistent lateness.
If you don't show respect for other people, they will not respect your leadership. Period. if you are frequently late for meetings or calls or just constantly moving the schedule around, your leadership isn't going to be taken seriously.
10. Trying to please everyone.
If your goal is to make everyone happy, you are never going to be an effective leader. Your team's best accomplishments will come when you are stretching them past their comfort zone. If you seek everyone's approval, that stretch won't happen—and you still won't have pleased them all.
Lead from Within: If any of these traits sound familiar, do something before you find that your leadership is failing.
---
N A T I O N A L   B E S T S E L L E R
The Leadership Gap: What Gets Between You and Your Greatness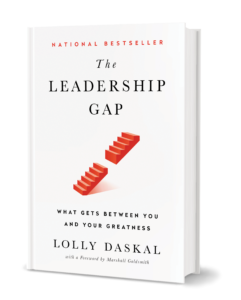 After decades of coaching powerful executives around the world, Lolly Daskal has observed that leaders rise to their positions relying on a specific set of values and traits. But in time, every executive reaches a point when their performance suffers and failure persists. Very few understand why or how to prevent it.
---
Additional Reading you might enjoy:

Photo Credit: Getty Images
---
Lolly Daskal is one of the most sought-after executive leadership coaches in the world. Her extensive cross-cultural expertise spans 14 countries, six languages and hundreds of companies. As founder and CEO of Lead From Within, her proprietary leadership program is engineered to be a catalyst for leaders who want to enhance performance and make a meaningful difference in their companies, their lives, and the world.

Of Lolly's many awards and accolades, Lolly was designated a Top-50 Leadership and Management Expert by Inc. magazine. Huffington Post honored Lolly with the title of The Most Inspiring Woman in the World. Her writing has appeared in HBR, Inc.com, Fast Company (Ask The Expert), Huffington Post, and Psychology Today, and others. Her newest book, The Leadership Gap: What Gets Between You and Your Greatness has become a national bestseller.
---