We've all heard it—a leader says I was unaware, that illegal practices were going on. I had no indication that misconduct was happening. I had no clue that certain decisions were being made.
And the questions always follow: How does a top leader not know what is going on in their company? How does a top leader not know about the day-to-day decisions?
It happens, and it happens more often then we would like it to.
And there is this reality: It is impossible for a top executive to know everything that is going on in their company at all times. In the ideal world it would be great, but in the real world it doesn't happen. And, to be honest, it is not the top executive's job to be involved in every detail of the business. Those who do are considered micromanagers and control freaks.
But there's a different level of that reality as well, one based in the highest responsibilities of leadership.
A leader is responsible for what is right and what is wrong. Great leaders inform their organizations by mapping out values and measuring alignment with those values. The organizational values must be viewed as immutable. And the leader must walk the talk by embracing and living out those values.
A leader is accountable for what we tolerate what we won't tolerate. Great leaders monitor how well their organization is embracing the values and principles, and they make it clear that deviating from the values will not be tolerated. The next time you're faced with a choice, do the right thing. It hurts everyone less in the long run and it will gain you trust until the end of time.
A leader is answerable for what we stand for and what we don't stand for. In everything that is discussed and produced, great leaders convey the message of their values and principles. They have a resounding echo throughout the organization
A leader is responsible for how we behave and how we don't behave. Great leaders understand that the people make the place and that values shape behavior. A values-driven person, drives the work they do. is always trusted.
It is not good enough that your organization has a great strategy.
It is not good enough that your strategy is going to get you results.
Your strategy and leadership need to all be based on values with the expectation that everyone, top to bottom, will adhere to those values.
If you want to be trusted in the world of globalization, where everything you do is seen and everything you think is heard, erecting walls and saying, "Sorry, I just didn't know"—this is not going to work anymore.
Leadership should be dedicated to living and leading lives to a more trusted culture.
Lead From Within: As the leader, if you want your company to be trusted, break down the walls and erect a foundation of values and principles that everyone from top to bottom knows and the rest of the world sees and feels. Because living and leading by values is the foundation of trust.
---
N A T I O N A L   B E S T S E L L E R
The Leadership Gap: What Gets Between You and Your Greatness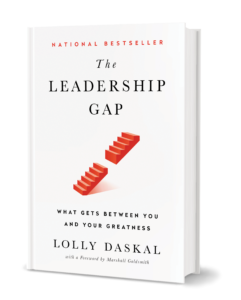 After decades of coaching powerful executives around the world, Lolly Daskal has observed that leaders rise to their positions relying on a specific set of values and traits. But in time, every executive reaches a point when their performance suffers and failure persists. Very few understand why or how to prevent it.
---
Additional Reading you might enjoy:

Photo Credit: Getty Images
---
Lolly Daskal is one of the most sought-after executive leadership coaches in the world. Her extensive cross-cultural expertise spans 14 countries, six languages and hundreds of companies. As founder and CEO of Lead From Within, her proprietary leadership program is engineered to be a catalyst for leaders who want to enhance performance and make a meaningful difference in their companies, their lives, and the world.

Of Lolly's many awards and accolades, Lolly was designated a Top-50 Leadership and Management Expert by Inc. magazine. Huffington Post honored Lolly with the title of The Most Inspiring Woman in the World. Her writing has appeared in HBR, Inc.com, Fast Company (Ask The Expert), Huffington Post, and Psychology Today, and others. Her newest book, The Leadership Gap: What Gets Between You and Your Greatness has become a national bestseller.
---