The deal closed after months and months of negotiations. Everyone was exhausted and beyond relieved. It would not only bring in a large amount of revenue in the business, but it would prevent any more layoffs.
As everyone walked out of the room, he yelled out, "Great Job, job well done! Could not have done it without you."
As the door closed, I couldn't help thinking What the hell was that?
It was intended as a compliment, I'm sure, but I'm equally sure that as everyone walked out of the room they felt nothing.
It was just a bunch of words that created a sentence that said great work!
I believe that all of us have a deep craving to be appreciated. And we all desire to be significant, and to know that our contributions matter.
And the compliment those people heard was not working for his leadership. As his coach, I knew I would be directing him toward a new path of learning.
There are two kinds of leaders:
Those who withhold gratitude, which we know is not good.
And then there are those who say "Thank you! Great job! Way to go! We did it!!"
But the truth those words leave the person or people receiving the complete usually hollow.
Don't get me wrong.
Compliments are nice, but they are fleeting moments where good intentions do not last.
Many of us mistake compliments for gratitude.
So what is the difference?
Compliments create distance. There's a paradox about compliments. Once bestowed, they often create a separation between the giver and receiver instead of drawing them closer. Giving someone a compliment can create an awkward moment, and often it creates distance between giver and receiver. Sometimes a compliment makes people feel embarrassed.
Gratitude creates a bond. When you are grateful and you make it personal, you create a bond. It lets the other person know that who they are matters, and what they did was significant to you.
People are always happy to hear that what they do has made a difference and has significance.
A compliment is a generic acknowledgment of something tangible—a completed task, a nice haircut, a compelling presentation, or a compassionate gesture.
Gratitude goes beyond the compliment to the intangible—why you are thankful for the completed task or the compelling presentation, the personal effect the tangible act had on you.
People are always glad to have their work acknowledged, but to know that it matters makes it more meaningful.
Compliments lead to mistrust. The recipient may wonder whether it's sincere or deserved.
Gratitude leads to trust. The recipient knows specifically how their character, their task, made an impression.
People want to trust what you say. Make it personal. Make it true.
Compliments may not land. However well-meaning, the recipient may not feel acknowledgment.
Gratitude lands in the heart. Being grateful gets to the heart of the matter. The recipient knows exactly what they have done and how their role made a difference.
People want to feel connected—not only to you but to what you say.
Learn how to give genuine gratitude and not just simplistic compliments.
 Be the kind of leader who has the courage to show gratitude, and the fearlessness to make it personal.
Everyone likes compliments, but if you want to touch someone's heart, show them your gratitude.
Lead from within: A leader who leads from within goes beyond the compliment. They make gratitude personal; they know how to make it matter.
---
N A T I O N A L   B E S T S E L L E R
The Leadership Gap: What Gets Between You and Your Greatness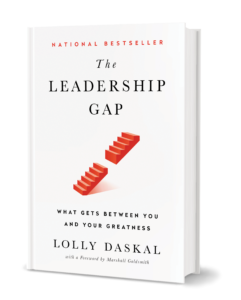 After decades of coaching powerful executives around the world, Lolly Daskal has observed that leaders rise to their positions relying on a specific set of values and traits. But in time, every executive reaches a point when their performance suffers and failure persists. Very few understand why or how to prevent it.
---
Additional Reading you might enjoy:

Photo Credit: Getty Images
---
Lolly Daskal is one of the most sought-after executive leadership coaches in the world. Her extensive cross-cultural expertise spans 14 countries, six languages and hundreds of companies. As founder and CEO of Lead From Within, her proprietary leadership program is engineered to be a catalyst for leaders who want to enhance performance and make a meaningful difference in their companies, their lives, and the world.

Of Lolly's many awards and accolades, Lolly was designated a Top-50 Leadership and Management Expert by Inc. magazine. Huffington Post honored Lolly with the title of The Most Inspiring Woman in the World. Her writing has appeared in HBR, Inc.com, Fast Company (Ask The Expert), Huffington Post, and Psychology Today, and others. Her newest book, The Leadership Gap: What Gets Between You and Your Greatness has become a national bestseller.
---