A world-famous violinist once said after a successful performance of Beethoven's violin concerto: "I have a beautiful score, a lovely violin, and a very good bow. When I put these three together I only need to step aside."
In leadership, when you have a great mission, great purpose, and a great team, all you have to do is step aside and then watch others take the lead.
No longer are we looking for those who lead us with control and manipulation.
No longer are we looking toward business to be produced, powered, and possessed.
The world has changed, and with it our expectations of ourselves has too. Today most of us need the following:
We are looking for purpose and meaning. We want to be valued and to be appreciated for our gifts.  People expect to have an opportunity to allow their talents to play a part of the bigger picture. We want to be associated with something beyond ourselves. And we want to play their part.
We are drivers of innovation. There are brilliant innovators and solitary geniuses. But most of us must allow for innovation and creativity to collaborate, to make it a collective process. Innovation must be about involving others, playing to their strengths, and showcasing their talent. Sustainable innovation comes about when everyone has an opportunity to contribute their slice of genius.
We are leaders who encourage a sense of community. It is great to be able to orchestrate, but it's better when we allow all the talent, all the gifts, all the skills, to come together within a community. We need everyone in the collective to make it happen—the vision makers, the talent takers, the skill setters—to come together as a community and use their gifts as a collective.
When we step aside to allow innovation and creativity to emerge, we are not abrogating our leadership responsibilities or turning our backs on our business acumen.
What we are really doing is simply becoming the musicians we are meant to be—the leaders we know we are, building businesses into what we know they can become.
Be known as the leader who is the gatherer of collective talent, with the collective genius to make the right thing happen.
Lead from within: Those leaders who become the musicians of their business are most likely to be different. They are willing to believe in others, they are willing to step aside- so that other can take the lead.
And so I ask you as a leader: Are you stepping aside to make beautiful music?
---
N A T I O N A L   B E S T S E L L E R
The Leadership Gap: What Gets Between You and Your Greatness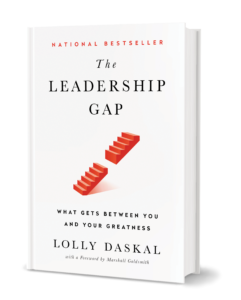 After decades of coaching powerful executives around the world, Lolly Daskal has observed that leaders rise to their positions relying on a specific set of values and traits. But in time, every executive reaches a point when their performance suffers and failure persists. Very few understand why or how to prevent it.
---
Additional Reading you might enjoy:

Photo Credit: Getty Images
---
Lolly Daskal is one of the most sought-after executive leadership coaches in the world. Her extensive cross-cultural expertise spans 14 countries, six languages and hundreds of companies. As founder and CEO of Lead From Within, her proprietary leadership program is engineered to be a catalyst for leaders who want to enhance performance and make a meaningful difference in their companies, their lives, and the world.

Of Lolly's many awards and accolades, Lolly was designated a Top-50 Leadership and Management Expert by Inc. magazine. Huffington Post honored Lolly with the title of The Most Inspiring Woman in the World. Her writing has appeared in HBR, Inc.com, Fast Company (Ask The Expert), Huffington Post, and Psychology Today, and others. Her newest book, The Leadership Gap: What Gets Between You and Your Greatness has become a national bestseller.
---