Each day that we make choices about our life and we don't admit our vulnerability, we are robbing ourselves of our humanity.
Vulnerability is as much a part of being human as is strength.
Many of us have been conditioned to be strong.
Many of us have been encouraged not to ask for help.
Many of us have been persuaded not need anyone.
To be human is to discover we can be vulnerable and still be strong.
We can ask for help and still lead and we can need others and still be tenacious.
Most creative, innovative, visionary people- are people who have lived their lives by inspiration and vulnerability.
You may feel that you have tried too many times too many things, or maybe you have been judged too harshly in the past and you have lost the innocence to stay vulnerable.
It takes a strong person to live openly in their vulnerability.
Admitting that you don't have to solve every problem you face is strong.
Allowing yourself to say, "I don't have to fix every problem" is strong.
In times of vulnerability:
• Read biographies' of others: see how others have struggled through their fragile moments and survived.
• Start journaling: see where you need to remain open and admit your fragility, admitting vulnerability creates intimacy.
• Begin self reflection: taking the time to go inward, begins with you, it gives you the answers are seeking.
You can't solve a problem you won't face.
You can't protect yourself against possible hurt.
This world is about taking in not shutting out.
In order to find your way, you have to pay close attention to the signs about when you feel you want to shut down and hide behind those messages: I don't need you. I can do this by myself.
We must reenter the truth of what is really going on and be honest.
We must stay vulnerable.
We cannot fear what lies within us, we can only love ourselves long enough to accept ourselves.
Lead From Within: The strongest people are the ones that can withstand their vulnerability and honor the balance about remaining open and being vulnerable.
---
N A T I O N A L   B E S T S E L L E R
The Leadership Gap: What Gets Between You and Your Greatness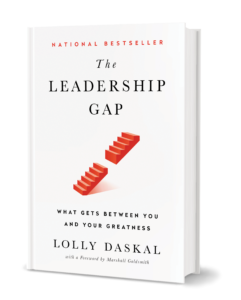 After decades of coaching powerful executives around the world, Lolly Daskal has observed that leaders rise to their positions relying on a specific set of values and traits. But in time, every executive reaches a point when their performance suffers and failure persists. Very few understand why or how to prevent it.
---
Additional Reading you might enjoy:

Photo Credit: Getty Images
---
Lolly Daskal is one of the most sought-after executive leadership coaches in the world. Her extensive cross-cultural expertise spans 14 countries, six languages and hundreds of companies. As founder and CEO of Lead From Within, her proprietary leadership program is engineered to be a catalyst for leaders who want to enhance performance and make a meaningful difference in their companies, their lives, and the world.

Of Lolly's many awards and accolades, Lolly was designated a Top-50 Leadership and Management Expert by Inc. magazine. Huffington Post honored Lolly with the title of The Most Inspiring Woman in the World. Her writing has appeared in HBR, Inc.com, Fast Company (Ask The Expert), Huffington Post, and Psychology Today, and others. Her newest book, The Leadership Gap: What Gets Between You and Your Greatness has become a national bestseller.
---