Sometimes you have to lose yourself to find yourself- Lolly Daskal
Imagine yourself wandering the streets of an unknown city in which you've just arrived. You're tired from travel, losing daylight, and uncertain where you're going to spend the night.
Feeling lost when you are alone can be disorienting and daunting.
Now imagine that same scenario, but add the stress of a group of people depending on you to tell them where to go.
Added to that, an organization is relying on you to make the budgets work and the financials sound.
Added to that, you are responsible for accountability for performance and external orientation.
Though it is rarely discussed, today many of our leaders feel overwhelmed, and in this overwhelming feeling is a deeper sense of being lost.
They have lost their sense of stability.
They have misplaced their sense of responsibility.
They are searching for their sense of reliability.
Leaders today battle pressure that is high, hours that are long, and workplaces plagued by dysfunction. They are inundated with unending to-do lists and "must have" requests.
Many feel that they have fewer and fewer people to talk with and with whom they can connect. The higher they stand on the ladder in the organizational structure, the more isolated they are likely to feel.
As pressure mounts from the outside and expectations begin to crush our spirits, leaders must stop to reflect and reexamine their focus.
With so little security outside, we must search within our own minds and hearts. We must recognize and acknowledge our own feelings, our own emotions, and our own needs.
We must value our inclination to connect with others and contribute to ourselves.
We must remember why we are where and what our purpose is.
In doing so, we remind ourselves that the work we do matters and we call to mind that we matter.
As leaders, we don't have to do this alone. We can reach out, we can reach in, and we can solve these issues together.
We will find when we have recovered our sense of meaning, we will have also reconnected with our purpose.
Lead From Within: As leaders we may sometimes feel lost, but it is in those moments that we can be found. Allow your instincts and emotions to inform your leadership. Stay open. Stay steady. Stay vulnerable. Stay strong.
---
N A T I O N A L   B E S T S E L L E R
The Leadership Gap: What Gets Between You and Your Greatness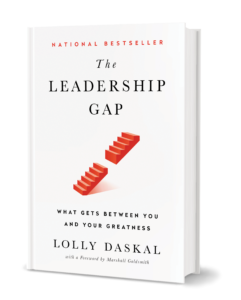 After decades of coaching powerful executives around the world, Lolly Daskal has observed that leaders rise to their positions relying on a specific set of values and traits. But in time, every executive reaches a point when their performance suffers and failure persists. Very few understand why or how to prevent it.
---
Additional Reading you might enjoy:

Photo Credit: Getty Images
---
Lolly Daskal is one of the most sought-after executive leadership coaches in the world. Her extensive cross-cultural expertise spans 14 countries, six languages and hundreds of companies. As founder and CEO of Lead From Within, her proprietary leadership program is engineered to be a catalyst for leaders who want to enhance performance and make a meaningful difference in their companies, their lives, and the world.

Of Lolly's many awards and accolades, Lolly was designated a Top-50 Leadership and Management Expert by Inc. magazine. Huffington Post honored Lolly with the title of The Most Inspiring Woman in the World. Her writing has appeared in HBR, Inc.com, Fast Company (Ask The Expert), Huffington Post, and Psychology Today, and others. Her newest book, The Leadership Gap: What Gets Between You and Your Greatness has become a national bestseller.
---