If you look at the above images from your seat in front of the computer, you can see Mr. Angry is on the left and Ms. Calm is on the right.
Now stop and take another look, this time squint at your computer, and what do you see?
Can you see how they switched places?
For many of us -We take life at face value and we rarely take a moment to stop and look beneath the surface.
Why?
Because we seldom take the time to look for answers when we feel there is no question.
We act as if we know it all and we respond as if we have no choice.
We are so busy judging, projecting, perceiving, conjecturing that we have little time for the unknown of our knowing.
But sometimes there is a little voice, that stops us in our tracks and we take a double take or take a second guess.
And in these moments our knowing becomes a closed door that has an opening to new possibilities.
So the next time you hear your colleague say something that fires you up – do not react – just listen to what is really being said.
The next time you feel angry at your children- do not respond- just pay attention and see who you are really angry at: them or yourself?
The next time your boss is out of line- do not jump – just see what went array and ask yourself how did we get here?
Do not take anything for face value. Let the power of your knowing make you stop and go into the unknowing.
Lead From Within: Do not allow your blind mechanisms to run your life live at the grace of your own preconceived perceptions and reactions.
---
N A T I O N A L B E S T S E L L E R
The Leadership Gap: What Gets Between You and Your Greatness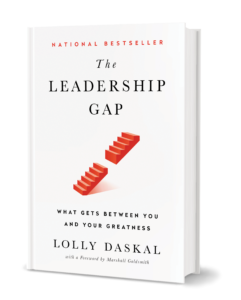 After decades of coaching powerful executives around the world, Lolly Daskal has observed that leaders rise to their positions relying on a specific set of values and traits. But in time, every executive reaches a point when their performance suffers and failure persists. Very few understand why or how to prevent it.
---
Additional Reading you might enjoy:

Illusion Created by Phillippe G. Schyns and Aude Oliva of the University of Glasgow.
---
Lolly Daskal is one of the most sought-after executive leadership coaches in the world. Her extensive cross-cultural expertise spans 14 countries, six languages and hundreds of companies. As founder and CEO of Lead From Within, her proprietary leadership program is engineered to be a catalyst for leaders who want to enhance performance and make a meaningful difference in their companies, their lives, and the world.

Of Lolly's many awards and accolades, Lolly was designated a Top-50 Leadership and Management Expert by Inc. magazine. Huffington Post honored Lolly with the title of The Most Inspiring Woman in the World. Her writing has appeared in HBR, Inc.com, Fast Company (Ask The Expert), Huffington Post, and Psychology Today, and others. Her newest book, The Leadership Gap: What Gets Between You and Your Greatness has become a national bestseller.
---