There is one rule that crosses all borders and boundaries, all religions and cultures. It is valid from the perspectives of psychology, philosophy, sociology, and economics, and it is one leadership rule that can heal the world.
It's known to most of us who speak English as the Golden Rule: "Treat others as you want to be treated"
Judaism: "Love your neighbor as you love yourself."
Christianity: "So whatever you wish that men would do to you, do so to them."
Islam: "No one of you is a believer until he loves for his neighbor what he loves for himself."
Buddhism: "Just as I am so are they, just as they are so am I."
Hinduism: "This is the sum of duty; do naught unto others what you would not have them do unto you."
Zoroastrianism: "Whatever is disagreeable to yourself, do not do unto others."
Confucianism: "Never impose on others what you would not choose for yourself."
Bahai: "Blessed is he who preferreth his brother before himself."
Sikhism: "Precious like jewels are the minds of all. To hurt them is not at all good. If thou desirest thy Beloved, then hurt thou not anyone's heart."
Taoism: "Regard your neighbor's gain as your own gain, and your neighbor's loss as your own loss."
Jainism: "A man should wander about treating all creatures as he himself."
Zorastrianism: "That nature alone is good which refrains from doing unto another whatsoever is not good for itself."
Ancient Greece: "Avoid doing what you would blame others for doing."
Existentialism: "What we choose is always the better; and nothing can be better for us unless it is better for all."
Unitarianism: "We affirm and promote respect for the interdependent web of all existence of which we are a part."
Humanism: "Moral directives do not need to be complex or obscure to be worthwhile, and in fact, it is precisely [the Golden Rule]'s simplicity which makes it great. It is easy to come up with, easy to understand, and easy to apply, and these three things are the hallmarks of a strong and healthy moral system."
In today's world, where so much is made of the things that divide us, let us think of the ways we are connected.
Lead From Within: Remember we are all one and together — as leaders -as people-we can heal the world, it only takes remembering the golden rule.
---
N A T I O N A L   B E S T S E L L E R
The Leadership Gap: What Gets Between You and Your Greatness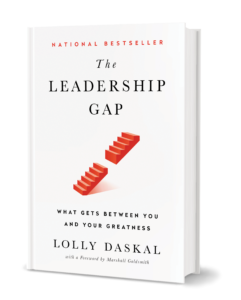 After decades of coaching powerful executives around the world, Lolly Daskal has observed that leaders rise to their positions relying on a specific set of values and traits. But in time, every executive reaches a point when their performance suffers and failure persists. Very few understand why or how to prevent it.
---
Additional Reading you might enjoy:

Photo Credit: Getty Images
---
Lolly Daskal is one of the most sought-after executive leadership coaches in the world. Her extensive cross-cultural expertise spans 14 countries, six languages and hundreds of companies. As founder and CEO of Lead From Within, her proprietary leadership program is engineered to be a catalyst for leaders who want to enhance performance and make a meaningful difference in their companies, their lives, and the world.

Of Lolly's many awards and accolades, Lolly was designated a Top-50 Leadership and Management Expert by Inc. magazine. Huffington Post honored Lolly with the title of The Most Inspiring Woman in the World. Her writing has appeared in HBR, Inc.com, Fast Company (Ask The Expert), Huffington Post, and Psychology Today, and others. Her newest book, The Leadership Gap: What Gets Between You and Your Greatness has become a national bestseller.
---