Did you know that the most powerful leadership tools you will ever use are within you.
The key to successful leadership is you.
Fashioned from our beliefs and demonstrated by our actions, our leadership is an articulation of our inner self.
Our values drive our leadership.
How we lead is an expression of what we believe.
How we lead people toward is an illustration of what we stand for.
The limits we set clearly communicate what we will and will not tolerate.
Our values undeniably shape our leadership.
Our values are the foundation of who we are as leaders.
When we lead based on our values, we can trust we are doing the right thing.
When our values inform our leadership we can be assured we are making the right choices.
When our values drive our leadership we can take comfort in knowing that we are aligning ourselves with our personal best.
By demonstrating our values we are setting the tone for every action, behavior, and interaction.
This is important no matter how successful we are.
This is important no matter what kind of leadership position we hold. It does not matter if we lead a Fortune 500 company, a small business or if we are leading a company of one.
We must nurture our inner self, we must allow our nature to grow and flourish.
Without clearly defined values we will have difficulty fostering and aligning strategies, vision, purpose and meaning.
We all know there will be challenges and complications. But it will be our defined values that help us to weed through and solve them.
Leading by our values sets the standard for what we say…. is planted and what we do becomes the seeds of what matters most to us
Lead from Within: In order to live our purpose and bring meaning to our leadership we must plant the seeds of our inner nature and imprint our values in everything we do.
Photo Source: Thank you Dan Oestreich for taking the most beautiful photo and sharing it with me.
---
N A T I O N A L   B E S T S E L L E R
The Leadership Gap: What Gets Between You and Your Greatness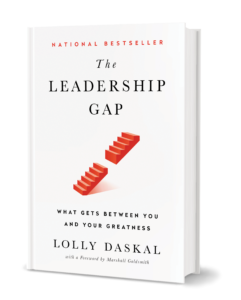 After decades of coaching powerful executives around the world, Lolly Daskal has observed that leaders rise to their positions relying on a specific set of values and traits. But in time, every executive reaches a point when their performance suffers and failure persists. Very few understand why or how to prevent it.
---
Additional Reading you might enjoy:

Photo Credit: Getty Images
---
Lolly Daskal is one of the most sought-after executive leadership coaches in the world. Her extensive cross-cultural expertise spans 14 countries, six languages and hundreds of companies. As founder and CEO of Lead From Within, her proprietary leadership program is engineered to be a catalyst for leaders who want to enhance performance and make a meaningful difference in their companies, their lives, and the world.

Of Lolly's many awards and accolades, Lolly was designated a Top-50 Leadership and Management Expert by Inc. magazine. Huffington Post honored Lolly with the title of The Most Inspiring Woman in the World. Her writing has appeared in HBR, Inc.com, Fast Company (Ask The Expert), Huffington Post, and Psychology Today, and others. Her newest book, The Leadership Gap: What Gets Between You and Your Greatness has become a national bestseller.
---