Watching The Godfather not long ago with my teenage son, I was struck by Michael Corleone's line "It's nothing personal, Sonny—it's strictly business."
Is business really ever "nothing personal"?
Can you imagine that Steve Jobs accepted it was "just business" when he was ousted from his position at Apple, the company that had been his brainchild?
Can you imagine someone saying it to Twitter founder Jack Dorsey when he was replaced as CEO? Do you think he didn't consider it personal?
Can you imagine trying to say it that to any of the leaders, entrepreneurs, teachers, bosses, and CEOs who have spent half of their lives at work and put their heart and soul – and who-knows-how-many years of their lives – into their work. How can anyone say it's not personal?
Business is personal, because we each crave a deeper connection with our work, a connection that transcends position and power and money, a connection in which we meet needs and create something.
We all want to be valued and recognized. And we like to know that we are making a difference when we put our heart and soul into something.
Our work reflects our personal lives, and our personal lives reflect our work.
If you have cared for your customers, it's personal.
If you have lost sleep over a client, it's personal
If you have gone out of your way for a colleague, it's personal
If you stayed extra hours to help a team member, it's personal.
What drives us each day to get up and go to work and work long hours is the fact that we think we are making a difference, contributing to the world around us.
If it wasn't personal, then why would we even be doing it?
It's not that you care that matters, it's how much you care that makes a difference.
When you bring the best parts of yourself to work, life, and leadership, when you make everything you do personal and connect to your work on that level, that you find the deeper meaning that connects our humanity to everything we do.
Having a connection to our work brings our heart to what we do.
Lead From Within:  Heart based leaders understand it's personal. Who you are at work has everything to do with who you are in life.
---
N A T I O N A L   B E S T S E L L E R
The Leadership Gap: What Gets Between You and Your Greatness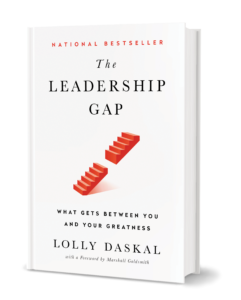 After decades of coaching powerful executives around the world, Lolly Daskal has observed that leaders rise to their positions relying on a specific set of values and traits. But in time, every executive reaches a point when their performance suffers and failure persists. Very few understand why or how to prevent it.
---
Additional Reading you might enjoy:

Photo Credit: Getty Images
---
Lolly Daskal is one of the most sought-after executive leadership coaches in the world. Her extensive cross-cultural expertise spans 14 countries, six languages and hundreds of companies. As founder and CEO of Lead From Within, her proprietary leadership program is engineered to be a catalyst for leaders who want to enhance performance and make a meaningful difference in their companies, their lives, and the world.

Of Lolly's many awards and accolades, Lolly was designated a Top-50 Leadership and Management Expert by Inc. magazine. Huffington Post honored Lolly with the title of The Most Inspiring Woman in the World. Her writing has appeared in HBR, Inc.com, Fast Company (Ask The Expert), Huffington Post, and Psychology Today, and others. Her newest book, The Leadership Gap: What Gets Between You and Your Greatness has become a national bestseller.
---