The day started out like every other day. The bus driver went to the garage and started up his bus, just as he had done every day for many years. He drove his bus route, just as he did every day, with no problems or incidents. The bus started and stopped; people got on and got off.
Around midday, however, something out of the ordinary happened: A huge, bulky man got on the bus. He looked to be nearly seven feet tall and was built like a wrestler, with long arms and heavy muscles. He was so massive that his very presence was frightening. This huge man glared at the driver and said simply, "Big John does not need to pay." And with that, he went to the back of the bus and sat down."
The driver thought, Who does this guy think he is? Everyone pays! As he kept thinking, he found himself getting upset: The audacity of this man! How dare he come on my bus and speak to me with such disrespect!
The more he thought about it—and he thought about it all day—the more furious he became. But in reality, the driver could do nothing about it. He was a small man, certainly no match for a giant. So he allowed Big John to remain on the bus, but he was far from happy.
The next day the same thing happened: Big John got on again, made a show of refusing to pay, and sat down. And the next day, and the one after that, until a full year had passed.
In that year, the driver had made the transition from short-term rage to long-term stress. He was losing sleep, his appetite was suffering, and he was fighting with everyone at work and with everyone he loved. He knew he was losing it, big time.
So he decided to do something about it. He signed up for bodybuilding courses, karate, judo, wrestling, fencing—you name it, he did it. He enrolled in anything that could build up his strength, his stamina, and his self-confidence.
The next six months were busy but good, and the driver was feeling more confident and strong every day.
One morning, he knew the day had come. And this time, when Big John got on the bus and said, "Big John doesn't pay," the driver stood up assertively, glared back, and screamed, "And why not?"
With a surprised look on his face, the passenger shrugged and replied, "Big John has a bus pass."
Lead From Within: Before you make assumptions, before you pass judgment, before you start working to fix a situation, make sure you know what the problem really is. Because not every problem needs a solution and understanding the problem is always the first step to finding a good solution.
---
N A T I O N A L   B E S T S E L L E R
The Leadership Gap: What Gets Between You and Your Greatness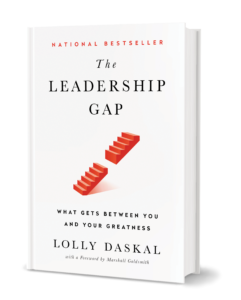 After decades of coaching powerful executives around the world, Lolly Daskal has observed that leaders rise to their positions relying on a specific set of values and traits. But in time, every executive reaches a point when their performance suffers and failure persists. Very few understand why or how to prevent it.
---
Additional Reading you might enjoy:

Photo Credit: Getty Images
---
Lolly Daskal is one of the most sought-after executive leadership coaches in the world. Her extensive cross-cultural expertise spans 14 countries, six languages and hundreds of companies. As founder and CEO of Lead From Within, her proprietary leadership program is engineered to be a catalyst for leaders who want to enhance performance and make a meaningful difference in their companies, their lives, and the world.

Of Lolly's many awards and accolades, Lolly was designated a Top-50 Leadership and Management Expert by Inc. magazine. Huffington Post honored Lolly with the title of The Most Inspiring Woman in the World. Her writing has appeared in HBR, Inc.com, Fast Company (Ask The Expert), Huffington Post, and Psychology Today, and others. Her newest book, The Leadership Gap: What Gets Between You and Your Greatness has become a national bestseller.
---