Today, many people believe it's impossible to be successful in the world of business, leadership, or politics and still maintain integrity.
Some believe that the purpose of leadership is to acquire power and dominance.
Many believe that business decisions are less effective if there is a serious consideration for moral matters.
But the standard of leadership depends not only on the qualities and beliefs of our leaders, but also on the expectations we have of them.
As long as we believe our leaders lack integrity, our expectations are likely to be confirmed in their conduct.
Therefore it's up to each one of us to improve our own standard of leadership.
It's imperative that we raise our expectations of rising leaders—and especially of those we choose to lead us.
How do we exercise this responsibility?
Here are some ways to start:
Lead from within. Set the example—in how you live, how you lead, how you act, how you speak. Demonstrate your high standards through your own actions and words. Leadership that does not originate within will not be congruent with the rest of your life and will reduce the legitimacy of your leadership. Set the example by focusing on your own accountability.
Live by a code of conduct. Too many of us have come to accept that a lower moral standard is necessary to get things done. This double standard of conduct is fueled by the idea that we have to win at all costs. The evidence is everywhere, from judging the accomplishments of others to worrying only about the bottom line. Don't give in to moral ambiguity and half-truths.
Make a commitment. Leading by a higher standard means making and holding true to a commitment to your best effort. Even if you know you will not be able to attain perfection, that should never be the excuse for not committing to get as close as you can. Every step is about understanding yourself and the needs of your people so you can serve them in a way that deepens the bond between you, moving them and your organization toward a higher standard. Shared experiences create deep understanding.
Evaluate your actions. Constantly evaluate your actions with an objective to try to do everything a little better tomorrow than you did it today. Continuous improvement and constant evaluation is the path to a higher standard in leadership.
Train your conscience. Slippery slopes abound, and to consistently see the difference between compromising your standards and taking the high road, you need to give your conscience a workout. Train your mind to monitor your thoughts and always be reflecting.
Dare courageously. Each step of higher standard leadership takes courage. Courage is powerful because it means you are all in with what is right and you are willing to accept the consequences. At the end leadership is a way of life, and a courageous life is a life worth living.
Ask for assistance. Maintaining high standards is not an easy path, especially when it seems everyone else is going in the opposite direction. When you find yourself being challenged, ask someone for help. (And, on the other side, give freely when you're asked.) Find and associate yourself with colleagues who share your commitment to leading with integrity.
Serve lovingly. Sometimes you have to be tough and tell others what they may not want to hear. Leading with love doesn't mean you always agree; it means you stand for what you think is right, including the well-being of your team.
It starts with you. Each one of us make take a stand to be governed by our principles, to be the leader who makes our people our passion, to be the business that makes their people and customers top priority.
Lead from within: Each one of is setting the example for someone else. Each one of us has to be responsible to shape the future as we wish it to be.
---
N A T I O N A L   B E S T S E L L E R
The Leadership Gap: What Gets Between You and Your Greatness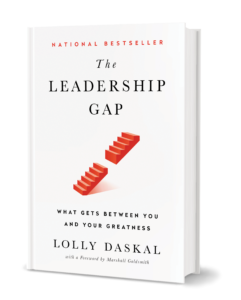 After decades of coaching powerful executives around the world, Lolly Daskal has observed that leaders rise to their positions relying on a specific set of values and traits. But in time, every executive reaches a point when their performance suffers and failure persists. Very few understand why or how to prevent it.
---
Additional Reading you might enjoy:

Photo Credit: Getty Images
---
Lolly Daskal is one of the most sought-after executive leadership coaches in the world. Her extensive cross-cultural expertise spans 14 countries, six languages and hundreds of companies. As founder and CEO of Lead From Within, her proprietary leadership program is engineered to be a catalyst for leaders who want to enhance performance and make a meaningful difference in their companies, their lives, and the world.

Of Lolly's many awards and accolades, Lolly was designated a Top-50 Leadership and Management Expert by Inc. magazine. Huffington Post honored Lolly with the title of The Most Inspiring Woman in the World. Her writing has appeared in HBR, Inc.com, Fast Company (Ask The Expert), Huffington Post, and Psychology Today, and others. Her newest book, The Leadership Gap: What Gets Between You and Your Greatness has become a national bestseller.
---