Each one of us has 24 hours to our day, 14,000 unique minutes. How we master our time makes a big difference.
Time management is an art. It involves efficiency and productivity with a focus on our goals.
It is not about filling every moment with busy work, but rather organizing our time around what is important.
Successful leaders master their time from inside out:
Value time: Time is precious for each of us and it is a valuable resource.We should not spend it unwisely or give it away. Leaders who are masters of time know when to put a stop to activities that do not contribute to their purpose.
The word NO can sometimes be the greatest time management tool of all.
Plan time: Planning for how to spend your time enables you to work far more efficiently than figuring it out as you go. What is planned happens, because planning leads to action.
Prioritize time:  To master time management is to set priorities among your goals. There is never enough time to do everything, but there is always enough time to do what is important.
Delegation time: To make the most of the precious resource of your time, learn to delegate. Hire others to do the work so you can have more time to work on what is valuable to you. Give less important tasks to others. Don't spend time on unimportant tasks and then wait for the important ones to get done. They won't.
Simplify time: Work on one task at a time. Do not start another task until the one you are working on is completed. Sustainable success and high productivity require concentrated effort. Be focused, and in return you will end up being productive.
Unblock time: Where are you limiting yourself from reaching your goals? Find out what may be within yourself that's blocking you and eliminate it immediately. Get rid of any behaviors or thoughts that are self-sabotaging.
Spend time in reflection: Everything you do, everything you want to achieve, is the result of time spent in reflection. Evaluating your goals is as important as achieving your goals. The biggest time waster is not spending the time to focus on what is important. By applying your thinking and listening to your heart, you can make decisions on the most valued tasks that need to be accomplished.
Be conscious of time: The more you pay attention to how you are using your time, the more efficient you can become. Create a diary of your activities to see where you are wasteful and where you are productive, and learn how to optimize your time based on those patterns
Mastering time doesn't start with an outer action, but with a vision of symmetry that is set up from within.
Lead From Within:  Time is the most valuable thing that a person can spend. Spend it wisely and master it from within.
---
N A T I O N A L   B E S T S E L L E R
The Leadership Gap: What Gets Between You and Your Greatness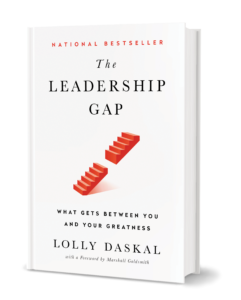 After decades of coaching powerful executives around the world, Lolly Daskal has observed that leaders rise to their positions relying on a specific set of values and traits. But in time, every executive reaches a point when their performance suffers and failure persists. Very few understand why or how to prevent it.
---
Additional Reading you might enjoy:

Photo Credit: Getty Images
---
Lolly Daskal is one of the most sought-after executive leadership coaches in the world. Her extensive cross-cultural expertise spans 14 countries, six languages and hundreds of companies. As founder and CEO of Lead From Within, her proprietary leadership program is engineered to be a catalyst for leaders who want to enhance performance and make a meaningful difference in their companies, their lives, and the world.

Of Lolly's many awards and accolades, Lolly was designated a Top-50 Leadership and Management Expert by Inc. magazine. Huffington Post honored Lolly with the title of The Most Inspiring Woman in the World. Her writing has appeared in HBR, Inc.com, Fast Company (Ask The Expert), Huffington Post, and Psychology Today, and others. Her newest book, The Leadership Gap: What Gets Between You and Your Greatness has become a national bestseller.
---