He told me he regretted not having more influence as a leader. He felt he had missed out on becoming something more then he was and it left him with deep regret. As his coach, I knew I had to put things into perspective for him.
How much time do we waste wishing we'd had the potential to be more and do more?
The truth is in life you have to make the most of your own potential. You cannot wish yourself into becoming who you think you could have been, or should have been. You have to learn instead to understand who you are and what you are capable of, and build on that foundation.
So how do you realistically make the most of your potential?
Here are some starting places:
Be accountable to yourself. The worst thing you can do in leadership or life is to shrink from responsibility and blame others for not having done your best or met your own expectations. As the saying goes: If it is to be, it's up to me. The place to begin is always to be accountable to yourself and responsible for the consequences of your choices.
Celebrate your talents. Too many of us fall prey to imposter syndrome, convincing ourselves that we don't have the strength or the talent to make it as the leaders we want to be. Don't focus on your weaknesses but celebrate your abilities. When you do, you make the most of your gifts and set a model for others to see their talents.
Don't compare yourself to others. Comparing yourself with others, simply put, is a waste of your precious time. Hold yourself to only one standard: the best version of yourself you can possibly be. Know that as you lead, you don't have to measure up to anyone but your own ideals.
Know you are enough. As leaders, we always feel we need to be doing more, fixing more, mentoring more, saving more. But you can't fix everything or be everything to everyone. It's possible to give of what you have to offer, still allowing others to find their way, and let that be enough.
Make every day the best it can be. As Coach John Wooden once said, "Make every day a masterpiece." If you consistently give your best of who you are, you will assuredly make your life into something special.
It is in owning our potential that we can live and lead without regrets.
Lead from within: Make the most of your potential and gifts; meet every opportunity with the best of what you have to offer, and know that is enough.
---
N A T I O N A L   B E S T S E L L E R
The Leadership Gap: What Gets Between You and Your Greatness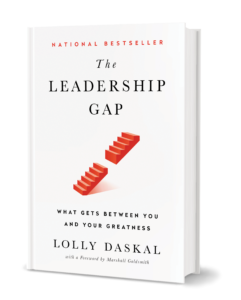 After decades of coaching powerful executives around the world, Lolly Daskal has observed that leaders rise to their positions relying on a specific set of values and traits. But in time, every executive reaches a point when their performance suffers and failure persists. Very few understand why or how to prevent it.
---
Additional Reading you might enjoy:

Photo Credit: iStock Images
---
Lolly Daskal is one of the most sought-after executive leadership coaches in the world. Her extensive cross-cultural expertise spans 14 countries, six languages and hundreds of companies. As founder and CEO of Lead From Within, her proprietary leadership program is engineered to be a catalyst for leaders who want to enhance performance and make a meaningful difference in their companies, their lives, and the world.

Of Lolly's many awards and accolades, Lolly was designated a Top-50 Leadership and Management Expert by Inc. magazine. Huffington Post honored Lolly with the title of The Most Inspiring Woman in the World. Her writing has appeared in HBR, Inc.com, Fast Company (Ask The Expert), Huffington Post, and Psychology Today, and others. Her newest book, The Leadership Gap: What Gets Between You and Your Greatness has become a national bestseller.
---