When I first started my coaching businesses, I used to use the word love with my clients. I told them:
Love what you do.
Love your people.
Love your work.
Love your company.
At the time, most people had never even considered that love could be a leadership competency.
People thought of love as a feminine quality, a simple emotion.
But as the years have passed, more and more of us have come see that love is not only feminine energy but has a masculine quality too. And it's far more than an emotion; it's an awareness that shapes everything about your behavior. It's what allows you to lead from within.
Here are some ways to demonstrate love as a leadership competency:
Love yourself by showing compassion. If you want to lead from within, compassion is the first necessity. And the place to begin practicing compassion is with yourself. That means seeing yourself as a unique human being with faults, failures, successes and weakness—not deciding whether or not you are deserving. Showing compassion to yourself prepares you to extend it to others.
Love your people by showing your commitment. Honoring your commitments with integrity is not only a bedrock of ethical behavior but a sign of genuine love, letting others know that you can be trusted to come through for them. Love your people enough to let them know they can count on you.
Love your work by showing up with competence. Vision is a great starting place, but it's competence that makes it into a reality. Results are important, and the care you bring to your work shows love for those you lead. When you love your work enough to contribute the very best of your capabilities, you lead with excellence.
Love those around you by showing kindness. The most simple act of kindness is powerful—nothing carries more potential for change. Kindness shows your love and transforms everyone it touches. Too often we underestimate the power of a touch, a smile, a kind word, a listening ear, an honest compliment, or the smallest act of caring, all of which are far more powerful then a thousand thinking heads. If you can show kindness, you are leader who loves.
Love is a game-changing competency, not only in leadership but also in life.
Work to become someone who leads with compassion, commitment, competence, and kindness—the qualities that define us as human beings and that propel us and those around us to greatness.
Lead From Within: When people ask you to name the most important competency of leadership, I hope you remember the competencies of love, because in the end love conquers all.
---
N A T I O N A L   B E S T S E L L E R
The Leadership Gap: What Gets Between You and Your Greatness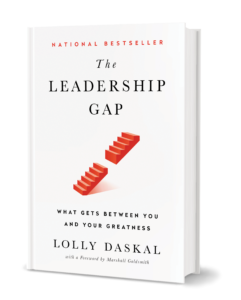 After decades of coaching powerful executives around the world, Lolly Daskal has observed that leaders rise to their positions relying on a specific set of values and traits. But in time, every executive reaches a point when their performance suffers and failure persists. Very few understand why or how to prevent it.
---
Additional Reading you might enjoy:

Artwork by Hugh MacLeod
---
Lolly Daskal is one of the most sought-after executive leadership coaches in the world. Her extensive cross-cultural expertise spans 14 countries, six languages and hundreds of companies. As founder and CEO of Lead From Within, her proprietary leadership program is engineered to be a catalyst for leaders who want to enhance performance and make a meaningful difference in their companies, their lives, and the world.

Of Lolly's many awards and accolades, Lolly was designated a Top-50 Leadership and Management Expert by Inc. magazine. Huffington Post honored Lolly with the title of The Most Inspiring Woman in the World. Her writing has appeared in HBR, Inc.com, Fast Company (Ask The Expert), Huffington Post, and Psychology Today, and others. Her newest book, The Leadership Gap: What Gets Between You and Your Greatness has become a national bestseller.
---