When people think of CEOs, the general perception is that they have it made.
But what happens when the reality is different then the perception?
The concerns of those who have made it to the top are easy to dismiss. But many CEOs are plagued by feelings of isolation once they take on the top job.
Half report experiencing feelings of loneliness in their role, and 61 percent of those who experience loneliness believe it hinders their performance.
Those just moving into the top ranks are particularly susceptible—nearly 70 percent of first-time CEOs who experience loneliness report that the feelings negatively affect their performance.
These feelings are not limited to CEOs. Isolation and loneliness can occur in anyone with newfound authority. Leaders owe it to themselves — and to their organizations — to make sure this isolation does not interfere with their effectiveness.
Those who feel isolated can come across as aloof and distant, leading to a reputation as a leader who is uninterested and cold—which, in turn, makes it harder to lead.
But it doesn't have to be that way. There are things you can do to counter any feelings of isolation and loneliness that result from your level of responsibility:
Loneliness is a human condition, as leaders we must learn to cultivate it.
Face Reality: Simply acknowledging your feelings of loneliness or isolation can be a relief in itself. Constantly denying these emotions in exchange for a (false) sense of self-assurance is exhausting. Take a moment each day to process and accept how complex, and even frightening, your responsibilities can be. Accepting your reality and feelings is the first step in dealing with them.
Open Yourself To Trust. It takes a lot of trust to break the cycle of isolation and become more open, especially when you are the leader. The trust to open up requires a level of vulnerability that can be difficult to allow, but it's essential to your happiness and effectiveness. Start small if you need to, but start somewhere.
Find A Support Group: Cultivate a group of trusted advisors from among your peers and create a support group that will help you and others in the same position. Other sources of support may include a great coach, friends, people in other industries. Make a list of those you can reach out to.
Speak Your Thoughts:. If you have ever been to therapy, or even shared an intimate conversation with a close friend, you know that as soon as you tell someone what has been weighing on your chest you start to feel better.
Feel Your Feelings: Your heart expresses the language of feelings, our feelings allow our senses to summarize what our mind interprets, arranges, and directs us to feel.
Our heart has its feelings, not to feel is not to be alive.

Isolation causes the loneliness, and it takes trust, bravery, and vulnerability to overcome.
CEOs and other top leaders go to great lengths to maintain a facade of unflappable confidence, concealing any insecurities or anxiety. But this cycle creates dangerous problems for both the leader and the organization.
Leaders simply cannot afford to ignore doubts and anxieties that put their organization's success at risk—not to mention their own happiness.
Now is the time for leaders to acknowledge these feelings and work to triumph over them.
Our reality cannot be comprehended without taking into account our feelings.

Lead From Within: Wherever you are, stay connected to what you're feeling and hold yourself open to finding ways to work through it.
---
N A T I O N A L   B E S T S E L L E R
The Leadership Gap: What Gets Between You and Your Greatness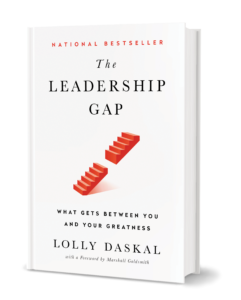 After decades of coaching powerful executives around the world, Lolly Daskal has observed that leaders rise to their positions relying on a specific set of values and traits. But in time, every executive reaches a point when their performance suffers and failure persists. Very few understand why or how to prevent it.
---
Additional Reading you might enjoy:

Photo Credit: Getty Images
---
Lolly Daskal is one of the most sought-after executive leadership coaches in the world. Her extensive cross-cultural expertise spans 14 countries, six languages and hundreds of companies. As founder and CEO of Lead From Within, her proprietary leadership program is engineered to be a catalyst for leaders who want to enhance performance and make a meaningful difference in their companies, their lives, and the world.

Of Lolly's many awards and accolades, Lolly was designated a Top-50 Leadership and Management Expert by Inc. magazine. Huffington Post honored Lolly with the title of The Most Inspiring Woman in the World. Her writing has appeared in HBR, Inc.com, Fast Company (Ask The Expert), Huffington Post, and Psychology Today, and others. Her newest book, The Leadership Gap: What Gets Between You and Your Greatness has become a national bestseller.
---