I walked into his office for our coaching session, and I knew something was very wrong. He was often upset over issues with his company, his board, his shareholders—but this was profoundly different.
I could barely understand his words. "I have so many regrets," he sobbed, "and now it's too late."
In the flash of an instant, life has a way of causing us to rethink everything. What if that happened to you, right now? How would you respond?
Would you spend more time in the office or would identify what you value most?
As leaders we are constantly busy with deadlines and responsibilities and people who rely on us, but we have little time for ourselves. What if we stopped doing what keeps us so busy and started doing what matters most? In the end, we will never look back with regret if we are being true to what we value most in life.
Take time to fill the gaps between the person you are and the person you want to become.
Would you keep doing what others expect of you, or would you find the courage to be more true to who you are?
For leaders, social pressures are an inescapable reality. How can we develop the courage to differentiate ourselves from the masses? How can we follow our heart and pursue our passion? In the end, what truly matters is that we find our voice and unleash our true potential.
Make each day matter and live at being the best version of you.
Would you continue to wear your mask, or would you fearlessly express your deepest feelings?
As leaders we have this idea that we must not show our feelings. We are afraid of expressing our feelings for fear of being seen as vulnerable or weak. Although we have the capacity to express ourselves, we hold back. How can we learn to be more authentic about what we feel? It's a great legacy for those around us to know we spoke from our heart and we stood up for what we believed in.
We can freeze up our feelings or we can learn to thaw out our heart.
Would you continue to be too busy for the people who matter to you, or would you boldly show them how much you care?
As leaders, we know that our trusted relationships are our anchors. But it's easy to get caught up in day-to-day busy-ness and lose track of the people who ground us.They are the ones who boost our confidence, who are there when we are challenged, who lift our spirits when we are stuck in a rut.  Take nothing for granted and keep those precious relationships active -make the time- in turn, those relationships will let us know we can make a difference.
Live your life without regrets and make unconditional love the way of your leadership.
Would you stay angry with someone who has wronged you, or learn to forgive and give them a second chance?
When someone wrongs or hurts us, we have a choice: To stay in pain or to forgive with compassion. To stay angry will keep the circumstance unresolved. It will only end up causing us more pain. But while someone has wronged us once, we may give them the gift of a second chance, for this time, they might just make things right.
Each moment spent in regret is a moment lost. 
Lead From Within: Life will have a way of causing all of us to pause, but we don't have to wait for that day to make the most of our life. Commit RIGHT NOW to make the most of your moments, and to begin building a life that is free of regret and reflects how you want to be remembered.
---
N A T I O N A L   B E S T S E L L E R
The Leadership Gap: What Gets Between You and Your Greatness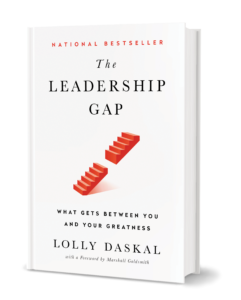 After decades of coaching powerful executives around the world, Lolly Daskal has observed that leaders rise to their positions relying on a specific set of values and traits. But in time, every executive reaches a point when their performance suffers and failure persists. Very few understand why or how to prevent it.
---
Additional Reading you might enjoy:

Photo Credit: Getty Images
---
Lolly Daskal is one of the most sought-after executive leadership coaches in the world. Her extensive cross-cultural expertise spans 14 countries, six languages and hundreds of companies. As founder and CEO of Lead From Within, her proprietary leadership program is engineered to be a catalyst for leaders who want to enhance performance and make a meaningful difference in their companies, their lives, and the world.

Of Lolly's many awards and accolades, Lolly was designated a Top-50 Leadership and Management Expert by Inc. magazine. Huffington Post honored Lolly with the title of The Most Inspiring Woman in the World. Her writing has appeared in HBR, Inc.com, Fast Company (Ask The Expert), Huffington Post, and Psychology Today, and others. Her newest book, The Leadership Gap: What Gets Between You and Your Greatness has become a national bestseller.
---