If you want to make a name for yourself and be recognized as a leader in your field, remember: It's not who you know, it's how you know yourself.
Most people assume that the most efficient way to make yourself known is to meet the right people. And certainly that's worth doing—but if you think meeting people is the only way to network, think again.
The best way to make a name for yourself is to carry yourself in such a way that your name speaks for you.
Let your life speak for you. Your effectiveness as a leader is tied to the image that others form about you, and your ability to project a leader's presence is closely tied to who you are as a person and how you lead your life. Anyone can live to please others; the harder task is to live for yourself.
Let your character speak for you. You can spend a lot of time crafting your leadership skills, but it will be your character—as seen through your words and actions—that tells the story of your leadership. Spend the time to learn who you are and what you value, and demonstrate that knowledge in the things you say and do. A true character makes a great leader.
Let your virtue speak for you. The moral cement of leadership lies in virtue—right words and actions. They unite and preserve, while vices separate and destroy. For a virtuous leader, everything stems from that moral core. Be a person of virtue and you will be a great leader.
Let your integrity speak for you. Stand by your principles. Refuse to accept less than the best from yourself. Ask of others only what you yourself are willing to give. Speak the truth even though it may create conflict. True integrity and great leadership mean doing the right thing, even when nobody else will see or know.
Let your trust, and your trustworthiness, speak for you. Be careful with trust in even the smallest matter. Let your own trustworthiness be impeccable, and be a role model in building trustworthiness in those around you.
You don't aspire to be anyone else, so let your words and actions make a name for themselves.
Remember, if you don't know where you are going you will end up somewhere else, and if you don't know who you are- you will become someone you are not.
Lead From Within: If you can speak; you can influence, if you can influence, you can change lives, if you can change lives you can change the world.
---
N A T I O N A L B E S T S E L L E R
The Leadership Gap: What Gets Between You and Your Greatness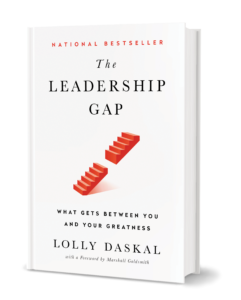 After decades of coaching powerful executives around the world, Lolly Daskal has observed that leaders rise to their positions relying on a specific set of values and traits. But in time, every executive reaches a point when their performance suffers and failure persists. Very few understand why or how to prevent it.
---
Additional Reading you might enjoy:

Photo Credit: Getty Images
---
Lolly Daskal is one of the most sought-after executive leadership coaches in the world. Her extensive cross-cultural expertise spans 14 countries, six languages and hundreds of companies. As founder and CEO of Lead From Within, her proprietary leadership program is engineered to be a catalyst for leaders who want to enhance performance and make a meaningful difference in their companies, their lives, and the world.

Of Lolly's many awards and accolades, Lolly was designated a Top-50 Leadership and Management Expert by Inc. magazine. Huffington Post honored Lolly with the title of The Most Inspiring Woman in the World. Her writing has appeared in HBR, Inc.com, Fast Company (Ask The Expert), Huffington Post, and Psychology Today, and others. Her newest book, The Leadership Gap: What Gets Between You and Your Greatness has become a national bestseller.
---