When it comes to leadership, we can draw inspiration from many places — even from nature. Take for instance the great northern geese, shrewd and wild birds with a lot to teach us.
Unity. A flock of great northern geese will fly thousands of miles in a perfect V formation. As each bird moves its wings, it creates an uplift for the bird that is following. It's estimated that their formation flying is 70 percent more efficient than flying alone.
We prosper when we share a common direction and sense of community. We can get where we are going faster and better when we are traveling together and trusting each other forward than when we are traveling alone.
Interdependence. At a distance the flock appears to be guided by a single leader. But the lead bird does not in fact guide the formation. When the lead bird tires, it rotates back in the formation to take advantage of the lifting power of the birds in front.
Leadership is best shared. We can excel if we stay in formation with those headed where we want to go, accepting their help and giving ours. True leadership means interdependence.
Encouragement. Each flock finds its own unique rhythm and spirit. The pulsating sound of the huge flapping wings excites and energizes the entire formation; the geese enthusiastically honk from behind to encourage those in front to keep up their speed.
We need to make sure we are honking words of encouragement to each other. Encouragement is powerful: Groups where it is practiced are far more productive.
Loyalty. When a member of the flock becomes sick or wounded, two geese drop out of the formation and follow it down to help and protect it. They stay with it until it is able to fly again—then they soar off together to catch up with the flock.
We can find strength in standing by each other,  in strength and in difficulty.
Rejuvenation. In the northern hemisphere, geese fly south to spend the winter in a warmer climate.
Especially in the cold and darkness of winter, it's important to remember to get away, to refresh ourselves, to recharge.
When you have a leadership that is based on unity, interdependence, encouragement, loyalty and rejuvenation, you have leadership that is not only meaningful but matters.
Lead From Within: There is a way that nature speaks and most of the time we are simply not patient enough or quiet enough, to pay attention to the story. Learn your leadership lessons from anyone with something to teach. Every opportunity, every circumstance, every story has a lesson to impart.
---
N A T I O N A L   B E S T S E L L E R
The Leadership Gap: What Gets Between You and Your Greatness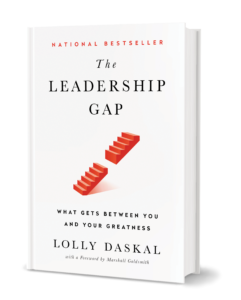 After decades of coaching powerful executives around the world, Lolly Daskal has observed that leaders rise to their positions relying on a specific set of values and traits. But in time, every executive reaches a point when their performance suffers and failure persists. Very few understand why or how to prevent it.
---
Additional Reading you might enjoy:

Photo Credit: Getty Images
---
Lolly Daskal is one of the most sought-after executive leadership coaches in the world. Her extensive cross-cultural expertise spans 14 countries, six languages and hundreds of companies. As founder and CEO of Lead From Within, her proprietary leadership program is engineered to be a catalyst for leaders who want to enhance performance and make a meaningful difference in their companies, their lives, and the world.

Of Lolly's many awards and accolades, Lolly was designated a Top-50 Leadership and Management Expert by Inc. magazine. Huffington Post honored Lolly with the title of The Most Inspiring Woman in the World. Her writing has appeared in HBR, Inc.com, Fast Company (Ask The Expert), Huffington Post, and Psychology Today, and others. Her newest book, The Leadership Gap: What Gets Between You and Your Greatness has become a national bestseller.
---