As leader we are sometimes expected to know all the answers—sometimes even before the questions are known. But buying into that expectation means that we risk sacrificing the very thing we need to lead with effectiveness: the right questions.
That's why it's important to resist the clamor for fast answers, any answers, and learn instead to lead with questions.
Some leadership models barely allow for questions. They rely on the idea that intelligence resides at the top, and that leaders don't ask but tell. The resulting atmosphere makes growth impossible, resulting in stagnant leadership and a workforce that is less smart, less productive, less aligned, less effective, less energized, and less successful.
The right questions lead you to the right answers, which equal the right success.
So what are some of the tangible benefits of leading with questions?
Improved Communication:
Leading with questions makes you a better listener. It encourages attentiveness and shared perspectives.
Effective Leadership:
The act of questioning reinforces the idea that everyone is important and that we create success by serving one another.
[quote]The power of questions can strengthen relationships, develop new business, and influence others. [/quote]
Conflict Management:
When you're making genuine inquiries into a conflict, it fosters a spirit of neutrality. Questions that acknowledge the feelings of others can help you view all sides and prevent conflict.
Strong Connections:
Questions help you read and understand key aspects of people and relationships. To ask is to show interest. And people want to know they matter.
Culture of Engagement:
Good questions energize people, and a questioning culture can energize an entire organization. It helps everyone understand that questions are expected to become a primary mode of communication, emphasizing the thinking and learning over telling.
Asking questions shows an inquisitive heart and a open mind.
Collaborative Teamwork:
Questions emphasize community over individuality and improve teamwork by giving everyone an opportunity for input.
When we lead with questions, we can help everyone in our organization bring about useful objectives, reduce resistance, pursue innovation and generate transformation.
Lead From Within: A leader is as good as their questions. When you ask questions, you will change what you know. When you change what you know, you will have a new understanding. When you have a new understanding, you change your actions—and, ultimately, your leadership.
---
N A T I O N A L   B E S T S E L L E R
The Leadership Gap: What Gets Between You and Your Greatness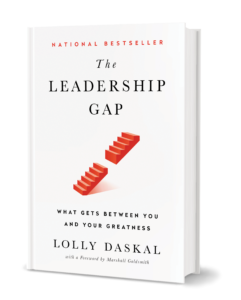 After decades of coaching powerful executives around the world, Lolly Daskal has observed that leaders rise to their positions relying on a specific set of values and traits. But in time, every executive reaches a point when their performance suffers and failure persists. Very few understand why or how to prevent it.
---
Additional Reading you might enjoy:

Photo Credit: Getty Images
---
Lolly Daskal is one of the most sought-after executive leadership coaches in the world. Her extensive cross-cultural expertise spans 14 countries, six languages and hundreds of companies. As founder and CEO of Lead From Within, her proprietary leadership program is engineered to be a catalyst for leaders who want to enhance performance and make a meaningful difference in their companies, their lives, and the world.

Of Lolly's many awards and accolades, Lolly was designated a Top-50 Leadership and Management Expert by Inc. magazine. Huffington Post honored Lolly with the title of The Most Inspiring Woman in the World. Her writing has appeared in HBR, Inc.com, Fast Company (Ask The Expert), Huffington Post, and Psychology Today, and others. Her newest book, The Leadership Gap: What Gets Between You and Your Greatness has become a national bestseller.
---