Even though there were only two people talking, the room was filled with tempestuous discussion. It smelled of conflict and felt like the heat was on.
They had been stuck there for a long time.
Both parties wanted to be right.
Each blaming each other.
Finally, I stood up and told them to stop.
"This is getting nowhere," I said. "I have an idea, but it's going to take both of you to make it work." They agreed reluctantly.
In any crisis, I told them, there are solutions waiting to be implemented, but it's difficult to implement them or even see them when we're in the heat of the moment, especially when we're focused on blame and defensiveness.
Then I led them in an exercise:
Imagine that we have left the room we're in, and we're walking together down the hall to a new room. It smells fresh and feels cool and looks bright.
Now I want you to see two people at the conference table. Watch, observe and listen.
They're in a heated discussion. And, by sheer coincidence, they're faced with the same difficulty as you.  
Don't react.
Allow yourself to disengage and keep your distance.
Now listen to the argument, and tell me what advice you would give them.
What would you tell them to do?
Soon they were both coming up with creative ideas and solutions faster than I could write them down. Then we looked at the list together and soon a workable solution was identified.
The solutions had been right there in the room all along.
Here are some strategies to try when conflict may be blocking your access to solutions:
Step back:  Distance yourself from the situation. Take a birds-eye view and give yourself a fresh perspective.
Diminish the Magnitude: Dialing back the importance of the situation makes it easier to move past who is right and who is wrong.
Seek NEW solution: When the heat is on, think of what you would tell someone in your situation to do. We are always better at advising others, because it's not about us.
Solutions are always in the room with us, waiting to be summoned. .
Lead From Within: When we are busy blaming, complaining, and panicking, we can't even consider a compromise. Turn down the heat, let your ego come to a rest, and allow solutions to flow from the heart.
---
N A T I O N A L   B E S T S E L L E R
The Leadership Gap: What Gets Between You and Your Greatness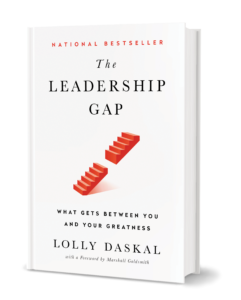 After decades of coaching powerful executives around the world, Lolly Daskal has observed that leaders rise to their positions relying on a specific set of values and traits. But in time, every executive reaches a point when their performance suffers and failure persists. Very few understand why or how to prevent it.
---
Additional Reading you might enjoy:

Photo Credit: Getty Images
---
Lolly Daskal is one of the most sought-after executive leadership coaches in the world. Her extensive cross-cultural expertise spans 14 countries, six languages and hundreds of companies. As founder and CEO of Lead From Within, her proprietary leadership program is engineered to be a catalyst for leaders who want to enhance performance and make a meaningful difference in their companies, their lives, and the world.

Of Lolly's many awards and accolades, Lolly was designated a Top-50 Leadership and Management Expert by Inc. magazine. Huffington Post honored Lolly with the title of The Most Inspiring Woman in the World. Her writing has appeared in HBR, Inc.com, Fast Company (Ask The Expert), Huffington Post, and Psychology Today, and others. Her newest book, The Leadership Gap: What Gets Between You and Your Greatness has become a national bestseller.
---