Change is constant. But change is difficult.
So what happens when an organizational change is handed down from the top and the people of the organization are not involved?
Do you have a group of people who are accepting…or angry?
Do you have a group of people who are focused…or frustrated?
Do you have a group of people who are committed…or complaining?
To get the results we want, it takes a group of people who understand the why and have embraced the how.
To get the drive that we need, it takes a group of people to be part of the change instead of having change imposed on them.
To get the commitment we demand, it takes a group of people, to become engaged in the cause and involved in the change.
We are stronger together than apart.
We are more effective when we resonate in unison.
We are more creative if we all work together.
We are more impactful when we understand what is needed, and why.
The next time you're planning to implement change, ask those around you what they think instead of telling them how to think.
Ask HOW they can help you shape the change instead of telling them WHAT they need to change.
To lead change is not a matter of chance; it is a matter of well thought out decisions with the heart of people's commitment. It is not a thing to be waited for, it is a thing to be achieved.
Lead from Within: Organizations are successful with change when the people within them embrace the change. It takes one gesture. One person. One moment at a time. Change is the end result of genuine understanding and learning.
---
N A T I O N A L   B E S T S E L L E R
The Leadership Gap: What Gets Between You and Your Greatness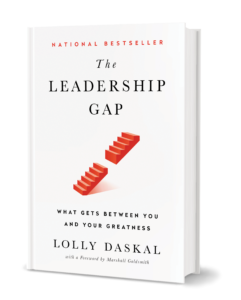 After decades of coaching powerful executives around the world, Lolly Daskal has observed that leaders rise to their positions relying on a specific set of values and traits. But in time, every executive reaches a point when their performance suffers and failure persists. Very few understand why or how to prevent it.
---
Additional Reading you might enjoy:

Photo Credit: Getty Images
---
Lolly Daskal is one of the most sought-after executive leadership coaches in the world. Her extensive cross-cultural expertise spans 14 countries, six languages and hundreds of companies. As founder and CEO of Lead From Within, her proprietary leadership program is engineered to be a catalyst for leaders who want to enhance performance and make a meaningful difference in their companies, their lives, and the world.

Of Lolly's many awards and accolades, Lolly was designated a Top-50 Leadership and Management Expert by Inc. magazine. Huffington Post honored Lolly with the title of The Most Inspiring Woman in the World. Her writing has appeared in HBR, Inc.com, Fast Company (Ask The Expert), Huffington Post, and Psychology Today, and others. Her newest book, The Leadership Gap: What Gets Between You and Your Greatness has become a national bestseller.
---