Bullies are people who are fearful, frightened, and frightening:
They are scared of not being perfect.
They are scared of disappointing.
They are scared of letting others down.
They are scared they don't have all the answers.
They are scared they bring no value.
They are scared they are not good enough.
Most bullies don't even know how to express their emotions, but they want others to respect their emotions.
Most bullies expect others to know what they are feeling and to be sympathetic, but they don't want to discuss their feelings.
When their emotional needs are not met, bullies become hurt, frustrated, and angry – and the rage begins.
Does rage get bullies what they want? No.
Is bullying a lose- lose situation? Yes.
No one is born a bully. Bullying develops as a behavior like any other behavior.
For a very few people, bullying is at the core of their "leadership" style, although actual leadership and bullying are miles apart.
For most of us, bullying is only a response in certain situations, with certain people, or at certain times. All the things we're scared of flare up and we respond by bullying someone.
Leadership suffers when bullying occurs, so even if the bully within us makes only rare appearances, we need to be aware of our own insecurities and confront them in a way that shuts down any tendency we may have to bully others.
Whether you have a serious problem with bullying or just an occasional lapse, here are some techniques to help eliminate bullying:
Stop denying; admit there is a problem . Denial is a defense mechanism that many bullies embrace so not to take ownership. Admitting the issue puts you one step closer to solving the issue.
Know that you want to do better. When you catch yourself in a bullying response, think about your behavior and make a promise to yourself to do better next time.
Fill the void. There will be a void in any situation that you once addressed through bullying. What will you fill it with?
Work on new behavior. Once you become aware of bullying and the negative affect it has on you and your leadership, start working on a new behavior. This new behavior will only work when you make it a habit.
There will be good days and bad days, but at least you are working on transforming.
Know that with every attempt towards positive behavior is an attempt to make yourself a better human.
Be ready with constructive thoughts and proactive plans, be equipped with new language and new skills, and be engaged with your emotional makeup and embrace your leadership resilience.
Learn to stop the bully within you, however large or small it may be.
Lead From Within: Remember that others are just as important as you – their desires, their feelings, their brilliance. Be compassionate to yourself and emphatic to others and stop the bully within.
---
N A T I O N A L   B E S T S E L L E R
The Leadership Gap: What Gets Between You and Your Greatness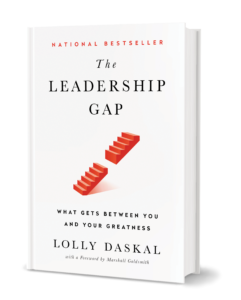 After decades of coaching powerful executives around the world, Lolly Daskal has observed that leaders rise to their positions relying on a specific set of values and traits. But in time, every executive reaches a point when their performance suffers and failure persists. Very few understand why or how to prevent it.
---
Additional Reading you might enjoy:

Photo Credit: Getty Images
---
Lolly Daskal is one of the most sought-after executive leadership coaches in the world. Her extensive cross-cultural expertise spans 14 countries, six languages and hundreds of companies. As founder and CEO of Lead From Within, her proprietary leadership program is engineered to be a catalyst for leaders who want to enhance performance and make a meaningful difference in their companies, their lives, and the world.

Of Lolly's many awards and accolades, Lolly was designated a Top-50 Leadership and Management Expert by Inc. magazine. Huffington Post honored Lolly with the title of The Most Inspiring Woman in the World. Her writing has appeared in HBR, Inc.com, Fast Company (Ask The Expert), Huffington Post, and Psychology Today, and others. Her newest book, The Leadership Gap: What Gets Between You and Your Greatness has become a national bestseller.
---