We all seem to spend a lot of time wishing.
We wish we were taller, richer, smarter.
We wish our businesses were more successful and our teams more productive.
But what would it sound like if we could change our wishes to wondering?
What different mindset would it bring?
Wishing is hoping for something- even something impossible—to happen.
Wondering is being curious about what will happen.
Wishing speaks of scarcity.
Wondering speaks of inquisitiveness.
Wishing is about wanting and yearning.
Wondering is about creating and inquiring.
When we inquire, we dream. When we are curious, we learn.

Try this: Take out a piece of paper. On the left side write down all the things you wish for. Your list might look like this:
I wish I were happier.

I wish I could lose weight.

I wish I was in love.

I wish the deal wasn't falling apart.

I wish my business was more successful.

I wish my team was more productive.

I wish my boss was not such a bully.
Keep writing until you feel you have written down all your wishes.
On the right side, turn each wish into an inquiry, something to wonder about:
I wonder what is like to be happier.

I wonder how I can lose weight.

I wonder what it's like to be in love.

I

wonder if the business deal will go through.

I wonder how I can make my team more productive.

I wonder what I can do to have a better relationship with my boss.
When you put "I wonder" in your life, you access your mind to inquiry.
When we become curious about our lives we are not trapped in the drama of wanting something and not getting it.
We can handle what may come because we are intrigued about what it will be.
I wonder… allows us to have a better handle on our professional and personal lives, it helps us drop our need for control, because life is not ours to control.
Lead From Within:  Take the pressure off yourself. Do not wish, do not hope—just be curious about what happens and let the wisdom of wonderment always work for you.
---
N A T I O N A L   B E S T S E L L E R
The Leadership Gap: What Gets Between You and Your Greatness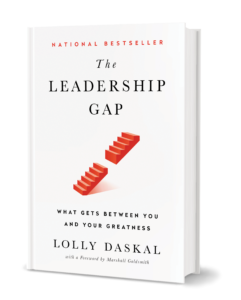 After decades of coaching powerful executives around the world, Lolly Daskal has observed that leaders rise to their positions relying on a specific set of values and traits. But in time, every executive reaches a point when their performance suffers and failure persists. Very few understand why or how to prevent it.
---
Additional Reading you might enjoy:

Photo Credit: Getty Images
---
Lolly Daskal is one of the most sought-after executive leadership coaches in the world. Her extensive cross-cultural expertise spans 14 countries, six languages and hundreds of companies. As founder and CEO of Lead From Within, her proprietary leadership program is engineered to be a catalyst for leaders who want to enhance performance and make a meaningful difference in their companies, their lives, and the world.

Of Lolly's many awards and accolades, Lolly was designated a Top-50 Leadership and Management Expert by Inc. magazine. Huffington Post honored Lolly with the title of The Most Inspiring Woman in the World. Her writing has appeared in HBR, Inc.com, Fast Company (Ask The Expert), Huffington Post, and Psychology Today, and others. Her newest book, The Leadership Gap: What Gets Between You and Your Greatness has become a national bestseller.
---